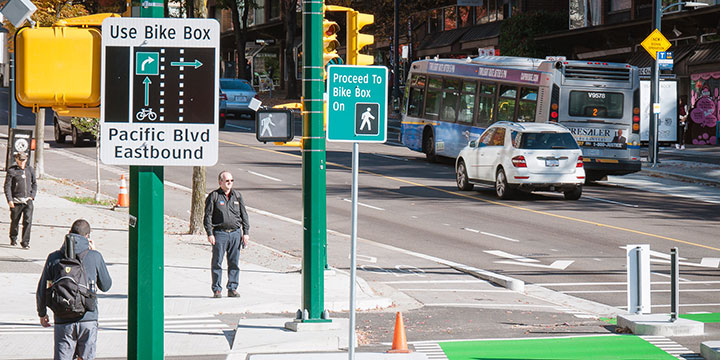 Signs, signals, and regulations
Contents
Our priorities are the safety of:
People walking and cycling
At-risk groups like children, seniors, and those with mobility challenges
We use signs, signals, and painted road markings to let you know where you can walk or ride your bicycle safely.
Flashing beacons to enhance crosswalk safety
We are testing rectangular rapid flashing beacons (RRFBs) at three crosswalks in the City:
Victoria Drive and Grant Street
West Boulevard and 42nd Avenue
Elliot Street and Waverly Avenue
When you cross the street at these locations, press the button to turn on the high-intensity light and let people driving or cycling know you're crossing.
Flashing beacons are suited where many people cross the road, drivers rarely stop, and a pedestrian signal isn't essential.
Watch a video about how the beacons work.
When we do not install flashing beacons
---
Crossing signals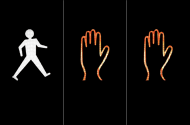 The walking pedestrian light means cross the street within the painted crosswalk lines if it is safe.
The flashing hand means it's too late to cross if you haven't already started so wait until the next walking pedestrian light.
The steady hand means don't cross and wait until the next walking pedestrian light.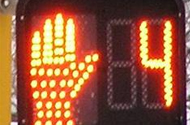 The countdown timer may appear next to the signals above, depending on the intersection. When you see the flashing hand and countdown, it's too late to cross if you haven't already so wait until the next walking pedestrian light.
When we do not install signals
---
​​​​​​​Update coming
In July 2020, Council voted to extend the hours of the 30km/hr school zone and playground to 24/7.
Until new signs are installed, the current speed limits remain in place.
We estimate new signs will be in place end of 2020/early 2021.
Speed limits
Unless otherwise posted:
City roads: 50 km/h
School zone: 30 km/h (8am to 5pm, school days)
Playground zone: 30 km/h (every day, dawn to dusk)
Street bikeways: 30 km/h
Lanes: 20 km/h
---
​​​​​​​Road signs and markings
Know what these signs and symbols mean to help keep you safe, however you're travelling.
Cycling road signs and markings
Cycling road signs and markings
By City of Vancouver
Bicycle symbol and sign for designated bicycle routes

By City of Vancouver

This sign and pavement marking shows that you are on a designated bicycle route.

Green-painted pavement along bicycle routes

By City of Vancouver

In North America, green is the standard colour for cycling facilities. Green-painted pavement identifies locations for potential conflicts with vehicles, such as street- and driveway crossings. Watch for turning, crossing, or merging motor vehicles.

Diamond-and-bicycle symbol and sign for dedicated bicycle lanes

By City of Vancouver

Motor vehicles, buses, and motorcycles are not permitted to travel or stop in this lane unless making a right turn onto a cross street. Transit buses may stop at designated stops.

Diamond symbol and sign for special vehicle lanes

By City of Vancouver

You may ride your bicycle in lanes reserved for special vehicles like buses and carpools.

Bicycle-and-arrow symbol for routes changing direction

By City of Vancouver

Follow the arrows to stay on the bicycle route.

Sharrow symbol for shared roadways

By City of Vancouver

Position yourself along this pavement symbol to safely share the road with other vehicles.

Shared-pathway symbol and sign

By City of Vancouver

Yield to people walking when you're on an off-street pathway shared by people walking and cycling. Look for this symbol around the Seawall.

Traffic-signal sensor symbol

By City of Vancouver

Line up your wheels with the lines on either side of this bicycle symbol to trigger a traffic signal change.

Dedicated bicycle traffic signal

By City of Vancouver

Watch out for traffic signals specifically for people on bicycles so you know when it's your turn to cross the street.

Crossbike symbol (elephants' feet)

By City of Vancouver

Crossbikes are crosswalks with dotted lines (or "elephants' feet") for people walking and cycling. You may ride your bicycle through the crossing. Always yield to people walking.

Bicycle box symbol

By City of Vancouver

Position yourself in the green box at a stop signal so you can proceed before other vehicles when it's time to cross. Pay special attention to the green bike box when you turn left off of a protected bicycle lane.
Traffic calming signs and road markings
We install traffic calming signs only when we implement traffic calming measures, and not on request.
Keep right sign
We install the keep right sign to mark traffic circles and curb bulges.
Maximum 30 km/h
These speed limit signs are installed in school and playground zones, and on bike routes only.
Pedestrian crosswalk
We install pedestrian crosswalk signs when we paint zebra markings.
We do not install crosswalks when there is a stop sign facing the direction because vehicles must stop at a stop sign regardless of whether a pedestrian is waiting to cross or not.
Getting road marking details for collisions
If you've been in a collision and want precise details on road markings, you will need to hire a private surveyor. We do not keep "as built" drawings of road markings.
Signs and markings we do not install
"No trucks" signs in residential areas because they are reserved for arterial streets and industrial-zoned areas
"One way" signs because they would negatively affect nearby streets and lanes
"Slow down", "Slow: children playing", or "Residential traffic only" signs on streets because they are not enforceable and add to sign clutter
"No Stopping Anytime" signs on a request basis
Signs for single family driveways
Signs in lanes, except for the West End, as there are by-laws for stopping and parking in lanes
Painted solid yellow lines on the side and top of curbs
Bicycle route signs and bicycle lane markings on a request basis. They are only installed for City projects that impact the bike network.
---
Where it's ok to cycle, ride, and skate
Hoverboards, motorized scooters, and Segways are currently not allowed on City streets, sidewalks, paths (including the Seawall), and protected bike lanes.
| Vehicle | Roads | Sidewalks | Seawall and park paths | Protected bike lanes |
| --- | --- | --- | --- | --- |
| Bikes | | | 1 | |
| Electric-assisted bikes | | | | |
| Electric kick scooters | 2 | | | |
| Skateboards, push scooters, rollerblades, and skates | 2 | | | |
| Motorized skateboards or scooters | | | | |
| Segways | | | | |
| Hoverboards | | | | |
| Motorized wheelchairs | | | | |
| Motorbikes and limited-speed motorcycles | | | | |
Notes
Where signs permit
Local streets only
Report an issue or request a service
Reporting damaged stop signs
A damaged stop sign can be a hazard to pedestrians and vehicles.
Phone 3-1-1 immediately to report signs that are damaged, missing, or blocked (for example, by branches).
Requesting stop sign changes
Use our online form to request:
Stop signs be installed at an uncontrolled intersection
Directional changes for existing stop signs
Additional stop signs be installed (for example, change a two-way stop to a four-way stop)
Reporting issues with overhead wires
All City electrical wires are underground.
Report issues or concerns with overhead wires to the appropriate organization:
For safety concerns, phone 9-1-1.