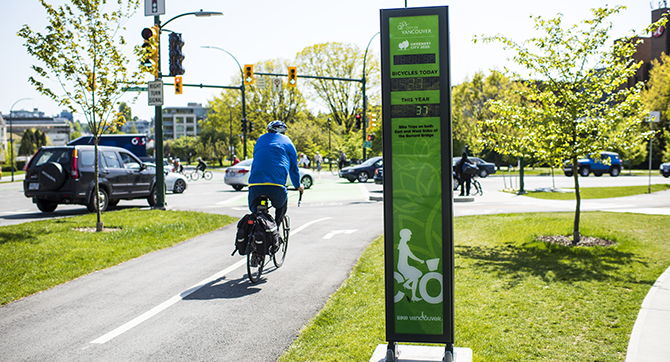 Transportation Data Collection Program
We use various methods in determining traffic quantity and characteristics around the city.
The methods can be categorized into these types:
Traffic count data helps us make traffic management decisions, such as when to implement:
Traffic-calming measures
Walking and cycling improvements
Traffic and parking regulations
Intersection and laning upgrades
Traffic signal timing modifications
Bus stop locations
For inquiries related to traffic data or data requests, email transportationdata@vancouver.ca.
For all other issues, including anything related to the above infrastructure, please contact 3-1-1.
Permanent count stations
Permanent count stations for pedestrians, bikes, and vehicles are used to monitor temporal traffic pattern changes around the city. They provide hourly count data.
Short-term count data
Short-term count data is used to supplement permanent count data by providing specific metrics related to road user classification, turning counts, and speed data. Read below about the types of short-term counts.
Reporting a damaged or disconnected counter
Panel survey
The survey acts as a travel diary where individuals record the trips that they make on a given weekday. This trip data was then compared to previous panel surveys conducted from 2013 to 2019, allowing for analysis of transportation trends.
The panel survey helps to track progress towards Transportation 2040 goals for mode share targets (two-thirds of trips by sustainable modes by 2040) and vehicle-kilometres traveled (20% reduction from 2007 levels) as well as Climate Emergency goals (two-thirds of trips by sustainable modes by 2030).
Third party data collection on city streets
We request that third parties interested in installing counting equipment on City streets contact us at transportationdata@vancouver.ca for transportation data related enquiries and to report damaged counters.
Equipment installed by third parties that had not been agreed upon in writing by us may be removed without notice.
Protection of privacy
No personal information is collected as part of our traffic count data collection efforts in adherence to BC's Freedom of Information and Protection of Privacy Act.