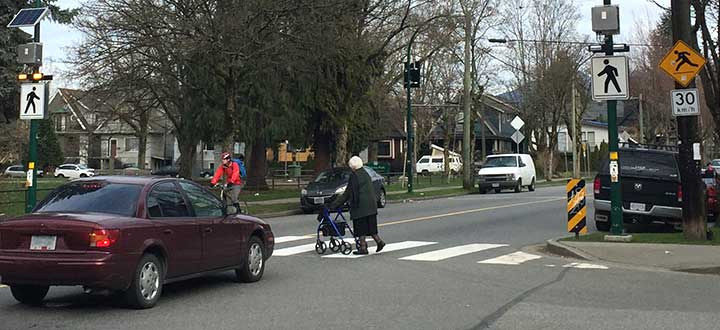 Vision zero: Vancouver's transportation safety action plan
Our goal: To have zero traffic related fatalities and serious injuries
Recent steps we've made
Embedded the zero traffic related fatalities target in our Transportation 2040 Plan
Launched our first slow zone demonstration pilot in February 2021 in the Grandview-Woodland area. Review the Council report (7.8 MB)
Installed 33 flashing pedestrian beacons and 24 pedestrian controlled signals since 2016. See our Pedestrian Safety Study and Action Plan for details on these devices (8 MB)
Created the Traffic Safety Advisory Group to develop strategies to improve safety from a multi-disciplinary perspective; including feedback from our health partners
In recent years we have taken steps to improve transportation safety. We have made progress but more work is needed as fatalities and serious injuries still occur, and even one fatality is too many.
Great strides are being made around the world and more and more public and private agencies are recognizing that zero fatalities is the only acceptable goal for transportation safety.
To achieve our goal, we developed our Moving Towards Zero Safety Action Plan , which we presented to City Council in November 2016. (3 MB)
What's happening

School Zone Speed Limit Reduction Pilot

We're launching a pilot on March 27 to reduce speeds on collector and arterial streets in nine school zones.

Studies show that slower motor vehicle speeds dramatically improve safety for people walking and cycling. Reducing vehicle speeds from 50 km/hr to 30 km/hr can reduce pedestrian fatality rates from 80% to 15% in the event of a collision.
Schools and streets impacted by the pilot
The pilot is running exclusively at elementary schools as elementary school-aged children are more vulnerable road users than high school-aged students.
The reduced speed limits are in effect during school hours only (8am to 5pm on school days).
Arterial streets (speed reduction from 50 km/hr to 40 km/hr)
Collector streets (speed reduction from 50 km/hr to 30 km/hr)
We'll report back to Council in spring 2024 with the pilot results. If successful, an expansion to additional schools would be considered.
Read more about the pilot (3 MB)
Your safety is our focus
What we're doing
Questions about our program? Email us.