West Georgia St bus priority improvements
Did you know?
In the last 10 years, transit ridership has continued to increase on West Georgia St and depending on the time of day, one out of every three to five people traveling this corridor are on the bus, while the number of motor vehicles has remained relatively constant at 60,000 per day.
TransLink identified West Georgia St as a corridor that experiences significant delay for transit passengers. In particular, westbound travel delays are common on weekdays and on weekends.
In coordination with TransLink, we've implemented several changes to the street, including new or enhanced bus priority lanes to ensure fast and reliable transit service. The changes will speed up buses that travel along W Georgia St, while having a minimal impact on regular traffic.
As the region grows, so does the demand on our already limited road space. In order to move more people in the same amount of road space, higher capacity travel options, such as transit, are being prioritized.
Changes to West Georgia St
The existing westbound bus/HOV lane in effect from 3pm to 7pm (7 days a week) from Richards St to Gilford St has changed to a Bus Only Lane in effect from 7am to 7pm (7 days a week).
The eastbound curb lane from Denman St to Hornby St has changed from a variety of weekday regulations to a Bus Only Lane from 7am to 7pm (7 days a week).
Minor adjustments to loading zones and left-turns were made to support the Bus Only Lanes.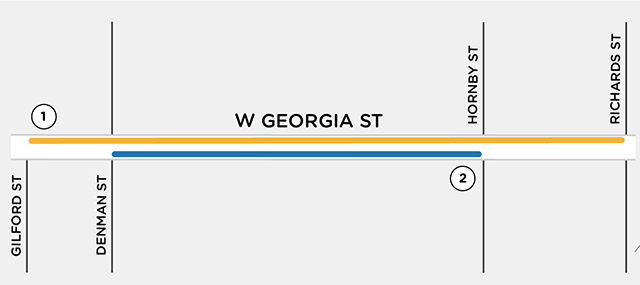 ​​​​​​​
Construction of the westbound changes began in summer 2020, and were completed in January 2021. Eastbound construction will continue during 2021 with completion expected by the end of 2021.