Registering as a researcher
At the Archives, we're in the business of preserving records and making them accessible now and for future generations.
Researchers working the Reading Room must register
We're serious about maintaining the condition of our records, while at the same time letting people examine them. To balance those needs, we ask all researchers working in the Reading Room to register with photo ID and agree to our rules.
Archives staff may refuse to provide service to researchers if they believe archival materials are being mishandled in any way.
Rules in the Reading Room
Register as a researcher
All researchers working in the Archives Reading Room must register and to agree to our regulations.
Download researcher registration form (106 KB)
Be sure to bring your photo ID. You need to present identification when you fill in the registration form.
Contact us
Reading Room hours
Monday to Friday
10am to 5pm
Staff assistance
10am to 4:45pm
Address
1150 Chestnut St
Vancouver, BC V6J 3J9
604-736-8561
archives@vancouver.ca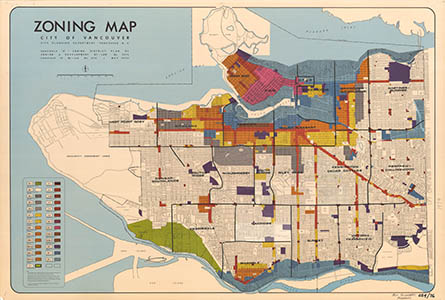 Image detail from PUB-: PD 2100.4