Walking safely and responsibly
The City coordinates engineering, education, and enforcement efforts to enhance pedestrian safety through active partnerships with various agencies, including the Vancouver Police Department and ICBC.
The City of Vancouver is committed to making walking easier and safer. The City has recently completed its first-ever pedestrian safety study and action plan, and is preparing to make many improvements for pedestrians. Find out more in the summary or the final report.
Know your pedestrian crossing signs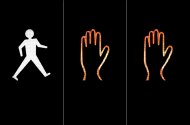 Pedestrian Crossing Signal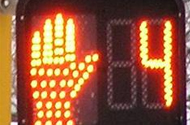 Countdown timer
Walking Pedestrian: This light means cross the street if it is safe to do so within the painted crosswalk lines
Flashing Hand: The flashing amber hand warns that it's too late to begin crossing if you haven't yet started. Wait until the walking pedestrian light is shown before crossing the street
Steady Hand: A steady hand means don't cross the street. Wait until the walking pedestrian light is displayed before crossing
Countdown Timer: In some intersections, you will see a countdown timer next to the above signals. The numbers begin counting down while the flashing hand appears. If you have not yet entered the intersection, do not attempt to beat the clock.
Pedestrian Tips
Always cross the street at an intersection, not at the middle of a block. Jaywalking is illegal, and you can be fined under Section 12 of Vancouver's Street and Traffic Bylaw 2849. Watch the video at the top of this page to learn more  
Obey all traffic signs and signals at intersections
If there aren't any pedestrian crossing lights, wait until it is safe to cross
Always check that the intersection is clear and that drivers and cyclists see you before stepping onto the crosswalk or road. Make eye contact with other road users and wait for cars to stop
Watch for drivers making unexpected moves
Assume drivers can't see you. Even cars that appear to be slowing down may not stop
Make yourself visible by wearing bright or reflective clothing. Consider carrying a flashlight or flashing red light at night
Be aware of your surroundings. Remove your headphones, put away your cell phone, Blackberry, iPod, MP3 player or other distractions when crossing the street