Jun 26, 2015 – Please help us water young trees so they can grow to see another summer. Make it a family activity and teach your children about the importance of trees. Young trees need about 15 litres of water twice per week.
Jun 26, 2015 – This year marks the 20th anniversary of our Keep Vancouver Spectacular. In recognition of this milestone, a special emphasis was placed on the thousands of volunteers who have taken to the streets to keep the city beautiful.
Jun 26, 2015 – The Fan Zone is open an extra day on Tuesday, June 30 from 12:00 noon to 7:00pm. Come enjoy the festivities and watch the semi-final match on the big screens.
View all news
News
Mayor Robertson wants your feedback. Send a message about what matters to you.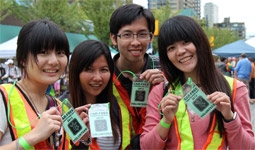 Volunteering with the City or Park Board is a rewarding way to gain experience, meet new people, and learn new skills. Check out all of our volunteer opportunities.
Find and sign up for recreation and leisure programs and classes.