Docks and boat ramps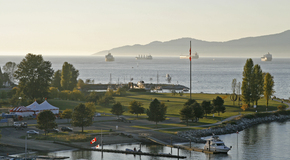 Find shore- and water access at these public docks and boat ramps around Vancouver:
Vanier Park Boat Ramp near Burrard Civic Marina
Granville Island Public Market
Stamp's Landing
Spyglass Place
The Village
Plaza of Nations
Quayside Marina in Yaletown
David Lam Park
Harbour Green Park in Coal Harbour
Moorage is only allowed for short-term use. Allow space for ferries to dock for passengers.
Launch kayaks from any public dock and Quayside Marina.
Map of public docks and boat ramps
Help us keep our docks pristine
If you notice a problem with a dock or boat ramp, help us fix it by calling 3-1-1.