Electric vehicles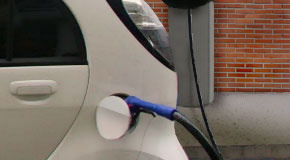 Where to charge electric vehicles
Find a charging station near you or your destination with online maps and mobile apps by Plugshare

or Chargehub

.
It's estimated that another 175 charging points are available to EV drivers in Vancouver that are managed by parking garages, hotels, shopping malls, and other services.
We currently manage 78 "Level 2" public charging points throughout Vancouver, and one DC Fast Charger, located next to Highway 1 at Empire Fields.
Why electric vehicles?
Zero emissions
British Columbia is fortunate to have an electrical grid that is 93% renewable. EVs can charge up today and have nearly emissions-free travel with zero tailpipe emissions. This reduces the climate change impact from gasoline or diesel vehicles and improves air quality for everyone.
Fast recharging with many locations
Vancouver is a dense, compact city. Most Vancouver drivers travel less than 30 km per day. EV batteries can be recharged from these trips in about one hour on a Level 2 (240V) plug, or in a few minutes on a Fast Charger. EVs are more flexible at "refuelling" than conventional vehicles – they can be charged at home, businesses, parking garages, parks, and more.
Efficient, quiet, and low-stress
EVs are more efficient than fossil-fueled vehicles, travelling about 5 times further per unit of energy. They are also quiet and require far less maintenance than a conventional vehicle.
How we support electric vehicles
Creating an electric vehicle infrastructure strategy
We're developing an electric vehicle infrastructure strategy to ensure that simple, fair, and low-cost access to electric vehicle (EV) charging will be available throughout Vancouver, and to help meet our goal of renewably-powered transportation.
In November 2015, we committed to deriving 100% of our energy from renewable sources before 2050. How we get around will play an important role in how we get to that goal, and we know that walking, cycling, or taking transit isn't always possible.
Installing charging stations
In 2010, we partnered with Project Get Ready, established by the Rocky Mountain Institute, to develop a list of actions to support and increase electric vehicle use. Since then, we've deployed a small network of Level 2 charging stations plus one DC Fast Charging Station.
We operate a DC Fast Charging station in partnership with BC Hydro at Empire Fields on Hastings Street, next to Highway 1. The Province of BC plans to add many more DC Fast Charging stations throughout the province, including increasing the density of stations within Metro Vancouver.
From 2011 to 2014, we ran a field trial, funded by the Federation of Canadian Municipalities, the Province of BC, and BC Hydro. We installed publicly accessible Level 2 charging stations in a variety of locations, including community centres, shopping malls, curbside, and other locations throughout the city. The field trial provided valuable insights into how EVs and charging infrastructure are used in Vancouver, as well as an understanding of deploying and managing the stations.
Increasing charging access in residences
In 2008, we changed our Building Bylaw to require 20% of parking stalls in apartments and condos, and all stalls in houses to be electric vehicle ready. In 2013, we updated our building bylaw so that 10% of stalls in mixed-use and commercial buildings are also ready for electric vehicles. Both of these now require that these "EV-ready" locations support Level 2 (240V) charging.
Increasing the number of electric vehicles in car sharing programs
We're encouraging local car-share organizations to add electric vehicles to their fleet by letting them access City-operated charging stations.
Increasing our electric vehicle fleet
We now have the biggest municipal electric vehicle fleet in Canada with over 30 electric vehicles. That number will continue to increase as older light-duty vehicles are replaced with EVs.