Electric vehicles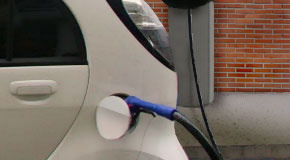 Electric vehicles use an electric motor for power instead of a traditional combustion engine and are much cleaner on the environment. They don't burn fossil fuels, which improves air quality, reduces greenhouse gas emissions, and saves you money on fuel. 
In February 2014, the City was awarded a Sustainable Communities Award (Transportation) for our electric vehicle program by the Federation of Canadian Municipalities.
By increasing the use of electric vehicles, the City will get closer to our goal of becoming the greenest city in the world by 2020. 
How we support electric vehicle infrastructure and use
The City partnered with Project Get Ready, established by the Rocky Mountain Institute, to develop a list of actions to support and increase electric vehicle use.
Trialing public charging stations
We are trialing public charging stations at community centres, shopping malls, curbs, and other locations throughout the city. In 2013, the City updated its building bylaw so that 10% of stalls in mixed-use and commercial buildings must be ready for electric vehicles.
Increasing charging access in residences
In 2008, the City changed its building bylaw to require 20% of parking stalls in apartments and condos, and all stalls in houses to to be electric vehicle ready.
Partnering with telecommunications companies
We are partnering with telecommunications companies to provide electric vehicle charging at sites where new cellular infrastructure is installed.
Increasing the number of electric vehicles in car sharing programs
We are encouraging local car-share organizations to add electric vehicles to their fleet by letting them access City-operated charging stations.
Increasing the City's electric vehicle fleet
The City now has the biggest municipal electric vehicle fleet in Canada with 27 electric vehicles (26 Mitsubishi iMiEVS and one Nissan Leaf).
Providing a fast charger for electric vehicles 
We are working with BC Hydro to install a Fast Charger that can charge your vehicle in less than 30 minutes. It will be one of 13 Fast Chargers in BC.
Where you can charge your electric vehicle
We are working with our community centres and with private parking lots to provide charging outlets to drivers.