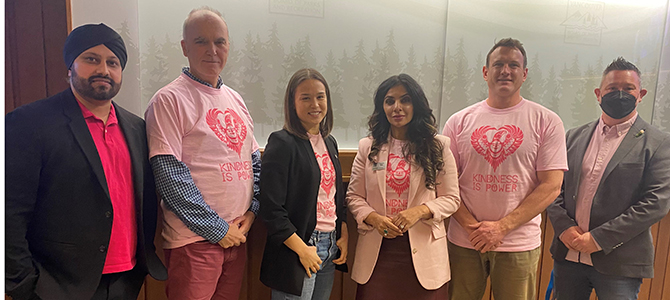 A statement from the elected Commissioners of the Vancouver Board of Parks and Recreation
February 22 2023 –
The elected Commissioners of the Vancouver Board of Parks and Recreation released the following statement to mark Pink Shirt Day:
We stand together against all forms of bullying, hate, and discrimination and invite residents and users of all park facilities to observe Pink Shirt Day on February 22nd, 2023.

Together with staff, we are working to ensure our spaces and programs are safe and healthy for all participants. One way we are on the path to this goal is the implementation of High 5 training for all Park Board and Community Centre Association (CCA) staff, to be completed in 2023. High 5 is a program that embraces anti-bullying and inclusion as a philosophy and has training modules specifically designed to recognize and correct bullying and exclusion situations.

There is more to do and we are committed to addressing all types of bullying and harassment.
For more information about the history and meaning of Pink Shirt Day and to learn about the High Five program