Vancouver Board of Parks and Recreation
The Vancouver Park Board is the only elected body of its kind in Canada. Formed in 1888 as a committee to manage the new Stanley Park, its history is as old as the city's itself.
It has exclusive possession, jurisdiction, and control over more than 230 public parks in Vancouver and a large public recreation system of community centres, pools, rinks, fitness centres, golf courses, street trees, marinas, playing fields, and more.
The elected nature of the Park Board and the strength and focus of its mandate have resulted in urban parks and recreation that today hold an enviable and esteemed position world-wide.
The Park Board's mission is to provide, preserve, and advocate for parks and recreation services to benefit all people, communities, and the environment.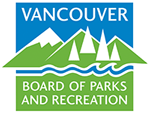 Follow us on
Find us
2099 Beach Avenue
Vancouver, BC V6G 1Z4
Connecting people to green space, active living, and community
Latest news
October 30 2020 - Starting November 7, we'll resume public programming at arenas with new safety measures in place.
October 15 2020 - Experience the wonder of the winter season in a magical outdoor garden setting with themed areas, unique light features, and holiday music.
October 8 2020 - The 34-year-old koi was recently relocated to a pond in the conservatory.