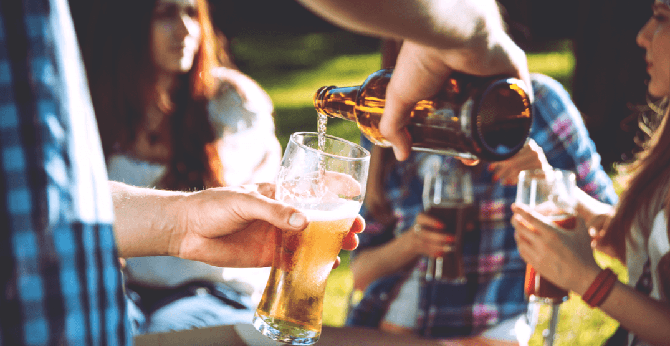 Alcohol in Parks Pilot relaunches for summer 2022
May 17 2022 –
You will be able to enjoy an alcoholic beverage with family and friends in 22 of our city's parks, as the Alcohol in Parks Pilot program relaunches for summer 2022.
At last night's meeting, the Board approved the draft by-law amendments required to support the 2022 pilot. The by-law designates areas in 22 of Vancouver's most popular parks where the consumption of alcohol will be allowed between the hours of 11am and 9pm daily, between June 3 and October 16. The by-law will be brought forward for enactment tonight.
Since last year's initial pilot, Park Board staff heard feedback from the community and there was significant support to continue the program with some improvements.
While much of the feedback was positive, we heard from the community that the 2021 boundaries for the designated areas were irregular and challenging to identify. Based on that feedback, this year's program aims to simplify and clarify where people can drink within the parks.
Locations
For most parks included in the pilot, drinking will be allowed throughout the park, except in areas like playgrounds, sports fields, beaches, community centres, ecologically sensitive natural areas, and off-leash dog areas. Maps of where alcohol can and cannot be consumed during the pilot are on our website and on signage posted at each location.
Once the by-law is enacted, consuming alcohol during the pilot is permitted in 22 parks:
Collingwood Park
David Lam Park
Fraser River Park
Granville Park
Harbour Green Park
John Hendry (Trout Lake) Park
Kitsilano Beach Park / Hadden Park
Langara Park
Locarno Beach Park
Maple Grove Park
Memorial South Park
Memorial West Park
New Brighton Park
Pandora Park
Queen Elizabeth Park*
Quilchena Park
Riverfront Park (West)
Robson Park
Rupert Park
Stanley Park (Southwest)*
Vanier Park
Volunteer Park
*Due to the size of Queen Elizabeth Park and Stanley Park, the designated areas in each park are once again only located in a portion of the park.
These 22 parks have been selected as they include amenities like washrooms, garbage and proximity to other services to ensure that parks remain well maintained and tidy.
We continue to ask residents and visitors to drink responsibly, respect other park users and use their common sense.
Next steps
Following the 2022 pilot program, we will present recommendations to the Board for how to proceed with alcohol consumption in parks. These recommendations will be based on what has been learnt from both pilot programs and commissioners will decide how to proceed.
While the pilot is in effect, Parks and Recreation staff, including the Park Rangers and Park Operations teams, will work with the Vancouver Police Department and the regional health authority to ensure each site is safe, properly managed, and well-maintained.