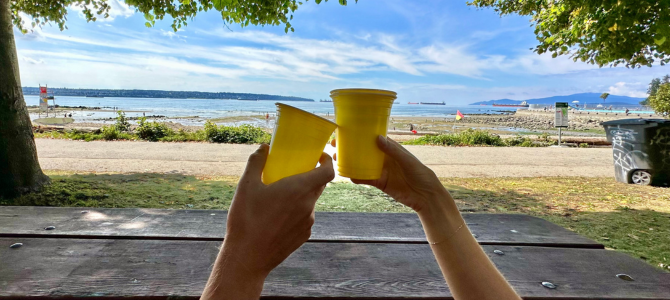 Vancouver's Alcohol on Beaches pilot set to end following Labour Day weekend
September 1 2023 –
Following the conclusion of the 3-month Alcohol on Beaches pilot, beachgoers are reminded that from September 5, the consumption of alcohol is no longer permitted on any of Vancouver's beaches.
Throughout the summer, residents and visitors have enjoyed the opportunity to drink alcohol at 7 beaches as part of a temporary initiative to test responsible consumption of alcohol at suitable locations in the city.
Staff are now reviewing the findings from the pilot, which includes feedback from the public and staff responsible for maintaining site safety and cleanliness. The findings will be shared with the Board at a later date to inform future decision making around drinking on beaches.
Alcohol in parks
Park users can continue to bring and consume alcoholic beverages at 31 permanent year-round locations.
Drinking is permitted between 11am and 9pm daily in select sites at the following parks:
Adanac Park
Balaclava Park
Burrard View Park
Elm Park
Fraser River Park
Garden Park
Granville Park
Harbour Green Park
Jericho Beach Park
John Hendry/Trout Lake Park
Jonathan Rogers Park
Jones Park
Kitsilano Beach Park
Langara Park
Locarno Beach Park
Maple Grove Park
McBride Park
Memorial West Park
New Brighton Park
Pandora Park
Queen Elizabeth Park
Riverfront Park
Spanish Banks Beach Park (East, Central and West)
Stanley Park (Lumberman's Arch)
Stanley Park (Southwest (near to Lawn Bowling Club) and Second Beach)
Sunrise Park
Tatlow Park
Vanier Park
Victoria Park
Volunteer Park
Woodland Park
Site maps advising where drinking is permitted can be found on park signage and on the program webpage.
Please note that while the consumption of alcohol is sanctioned year-round at these sites, drinking is not permitted at any adjacent beaches (e.g. Kitsilano Beach).
Drinking anywhere in English Bay and Third Beach in Stanley Park is not permitted at any time of the year.
Drinking responsibly
Park users are reminded to act responsibly when drinking alcohol. We ask residents and visitors to respect other park users and help keep greenspaces clean by properly disposing of trash or taking it away with them.
In April 2023, the Park Board approved the by-law prohibiting glass beverage bottles and containers at parks and beaches, in response to concerns over broken glass and potential injury.
When consuming beverages in parks (alcoholic or not), avoid bringing any glass bottles or containers, and instead bring cans, reusable and/or plastic or paper-based containers.
For more information on the Alcohol in Parks and Beaches program, visit vancouver.ca/alcohol-in-parks