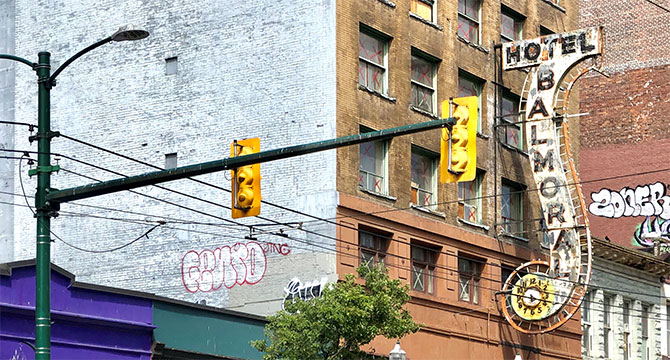 Balmoral sign to be removed due to safety concerns
June 24 2022 –
The neon blade street sign at the former Balmoral Hotel (159 E Hastings St) is scheduled for removal from the building on Sunday, June 26, due to the deteriorating condition and risk of injury to the public. Following removal, the sign will be transported offsite for further assessment.
The removal of the sign will commence at approximately 9am and is expected to be completed by approximately 1pm. Traffic and sidewalk closures will be effective from approximately 7am to 4:30pm on Sunday.
Media are advised that this is an active construction zone. If gathering footage, please follow safety protocols on-site and be considerate of the workspace and pedestrians in the area.
Expect minor delays while travelling through the area and allow for extra time. The sidewalk adjacent to the building will be temporarily closed off. Only one lane of roadway will be available for westbound traffic, eastbound traffic is not anticipated to be disrupted. Drivers are asked to be patient and consider using an alternate route. Westbound buses will continue to be available.
We are continuing to monitor the building's condition as we plan for the demolition, including hazardous materials abatement and civil site work. Given the age, complexity, and condition of the building, removing the building will take several months to complete.
We also recognize that the Balmoral, prior to its closure, was a site of harm and trauma to many and that the demolition of this building will have emotional impact for former residents and their families, friends, and community. We have started reaching out to community to seek guidance and involvement in providing respectful, healing, and culturally appropriate support and ceremony for community through the actual building demolition and redevelopment process.
Media will be advised on demolition details once planning is completed.