Board of Parks and Recreation appoints Betty Lepps as first-ever Director, Urban Relationships
I look forward to using my skills and knowledge to make Vancouver's parks the most inclusive, diverse, and equitable places for all to enjoy.
Betty Lepps, Director, Urban Relationships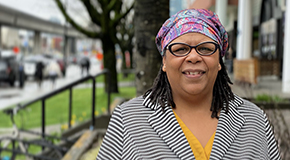 March 30 2022 –
The Vancouver Board of Parks and Recreation has appointed Betty Lepps as Director, Urban Relationships, the first position of its kind for the City.
Lepps will lead on the Park Board's work on responding to the needs of people experiencing homelessness, helping to fulfill the City's humanitarian responsibilities to those sleeping or sheltering in parks. As Director, Urban Relationships, Lepps will also work with partners to help improve the overall safety of all people using Vancouver parks.
"I believe that this is a unique position, and in my experience, I've never heard of this role elsewhere. However, it is one that is long overdue in the parks and recreation system across the country," said Donnie Rosa, General Manager, Vancouver Board of Parks and Recreation.
"People sheltering in parks is not an operational issue, it's a human condition that needs a humane approach. Betty brings that approach and her extensive knowledge of working within our collaborative construct will be of huge benefit to Vancouver and its residents."
Lepps joins the Board of Parks and Recreation from BC Housing, where she held the role of Regional Director of Supportive Housing/Shelters and co-led on the housing of almost 300 people sleeping in Strathcona Park. During her time with BC Housing, she worked with over 100 programs and 50 non-profit organizations to provide services to the most vulnerable, equity-denied residents of the Vancouver coastal area.
Throughout her career, Lepps has combined her compassionate approach to community engagement with a plethora of experience in policy development and leadership.
She has worked with Indigenous communities across Canada and the USA and her work on driving systemic change for vulnerable populations has been highly lauded at municipal, ministerial, community, and national level. She was also instrumental in developing the first Indigenous restorative justice court in Calgary.
"I am thrilled to be joining the Board of Parks and Recreation, an organization that is innovative, creative, and committed to serving all citizens in Vancouver," said Lepps. "I look forward to using my skills and knowledge to make Vancouver's parks the most inclusive, diverse, and equitable places for all to enjoy."