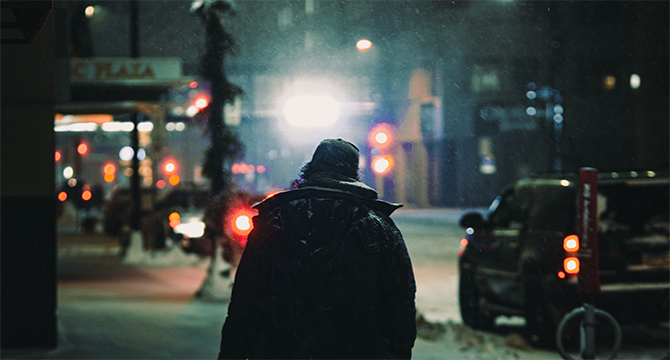 City reminds public of extreme weather shelters and warming centres as temperatures drops
January 26 2023 –
After a milder January, the forecast is calling for colder temperatures in Vancouver, with freezing temperatures arriving as early as this weekend.
We and partners will be once again activating a variety of spaces to encourage people to come in from the cold, starting the evening of January 27.
Extreme weather response (EWR) shelters provide mats to sleep on and are open during extreme rain, wind, snow or when the temperature feels like 0°C or below. Depending on the location, visitors to these warm spaces may bring pets, bikes, and carts with them. 
Warming centres are open when the temperature feels like -5°C or below, or the actual temperature is -4°C or below, as a life-saving measure for people sleeping outside. Hot drinks and snacks are available. 
The most up-to-date information on EWR and Warming Centre activations can be found on our social media pages and the Homelessness Services Association of BC's Emergency Weather Response Program Twitter account .
Extreme weather response shelters and warming centres
Extreme weather response (EWR) shelters and warming centres are in addition to temporary winter shelters, which are open every night between November and March. 
EWR shelters will open tonight to provide additional spaces at the following locations:  
Directions Youth Services Centre 

1138 Burrard Street 
10pm to 7am  

Cascades Church 

3833 Boundary Road 
9:30pm to 9am  

Langara YMCA 

9:30pm to 7am  
282 West 49th Avenue  

The Salvation Army Belkin House 

555 Homer Street 
9pm to 7am  

Langara YMCA 

282 West 49th Avenue  
9:30pm to 7am  
Warming centres will be open starting January 28, at the following locations:
Powell Street Getaway (DTES)

Opening tonight, Jan 27, aligning with EWR parameters
450 East Hastings Street
9pm to 7:30am

Odd Fellows Hall (Fairview)

1433 West 8th Avenue
9:30pm to 8:30am

Marpole Neighbourhood House (Marpole)

8585 Hudson Street
10pm to 8:30am

Gathering Place (Downtown)

609 Helmecken
8:30pm to 7:30am

Mount Pleasant Community Centre (Mount Pleasant)

1 Kingsway (entrance off 8th)
10pm to 6:30am

Overdose Prevention Society (DTES - Overdose Prevention Site)

141 East Hastings
11pm to 8:30am

Aboriginal Front Door (DTES)

390 Main Street
11pm to 7am
We extend our appreciation to the community organizations who make their spaces available to activate as warming centres and extreme weather response shelters and to the province for funding these activations.