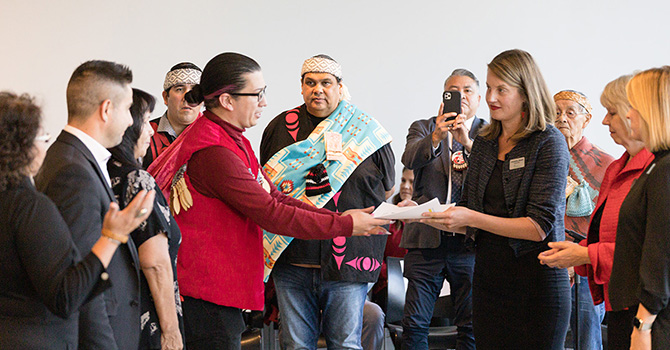 Council approves groundbreaking UNDRIP strategy for Vancouver
Calls-to-action are the first of their kind for a municipality in Canada
October 25 2022 –
Today, council passed the City of Vancouver's United Nations Declaration on the Rights of Indigenous Peoples (UNDRIP) Strategy that makes Vancouver a national and world leader in implementing a clear strategy towards UNDRIP and reconciliation.
In March 2021, City Council unanimously adopted a motion to create a UNDRIP Task Force. The task force, in partnership with Musqueam Indian Band, Squamish Nation, and Tsleil-Waututh Nation, developed the strategy and 79 calls-to-action outlined in the report.
Today, UNDRIP is the most comprehensive international instrument on the rights of Indigenous Peoples and is a framework for reconciliation to uphold and protect Indigenous Peoples' rights and their enjoyment of those rights.
As part of our UNDRIP Strategy, the task force identified specific calls-to-action under the four themes of the BC Declaration on the Rights of Indigenous Peoples Act (Declaration Act):
Social, cultural, and economic well-being
Ending Indigenous-specific racism and discrimination
Self-determination and inherent right of self-government
Rights and title of Indigenous People
Review the full strategy (1.4 MB)
Musqueam Indian Band, Squamish Nation, and Tsleil-Waututh Nation have generously come together to help guide us in this important work. The establishment of the intergovernmental UNDRIP Task Force created a pathway to support Vancouver's commitment to improved relationships with the Nations, in recognition of their rights as title holders of these lands.
Acknowledging the important work that Musqueam, Squamish, Tsleil-Waututh, and Vancouver have done, the task force celebrated the release of their strategy and calls-to-action at a cultural ceremony at the Museum of Vancouver on October 19.
Next steps
In consultation with the Nations and urban Indigenous populations, we will determine what is needed to implement each call-to-action and report back to council with an action plan on how to implement findings, and a new intergovernmental committee will work to move forward the strategy's recommendations.
Quotes
Squamish Nation Chairperson and Task Force Co-Chair Khelsilem
"The UN Declaration on the Rights of Indigenous Peoples is a framework for reconciliation. I am proud to present the first-ever co-developed strategy between a city and local First Nations to implement UNDRIP. This is implementing a key call-to-action from the Truth and Reconciliation Commission and becomes a road map for a meaningful and impactful relationship between Musqueam, Squamish, and Tsleil-Waututh, with the City of Vancouver, that benefits all of Vancouver."
City of Vancouver Councillor and Task Force Co-Chair Christine Boyle
"Implementing UNDRIP is one of the Truth and Reconciliation Commission's calls-to-action, and is timely and important work for us as a City of Reconciliation. In Vancouver, Indigenous people continue to be overrepresented among those who are homeless and precariously housed and continue to experience negative health outcomes and barriers to participation at higher levels. The 79 actions within this UNDRIP Strategy will strengthen Indigenous rights, create new pathways for government-to-government relationships, and improve life for Indigenous people in Vancouver. It has been an honour to do this work alongside Musqueam, Squamish, and Tsleil-Waututh leaders, and I look forward to continuing it in the service of current and future generations on these lands."
Tsleil-Waututh Chief Jen Thomas
"I am thrilled by Council's endorsement of the UNDRIP Task Force's groundbreaking report. These 79 calls-to-action will guide the City of Vancouver to implement its UNDRIP strategy, ensuring that issues of well-being, racism, self-determination, and the rights and title of Indigenous peoples are addressed over time. The UNDRIP strategy is representative of the transformative work that is possible with government-to-government relationships between the City of Vancouver and Musqueam, Squamish, and Tsleil-Waututh Nations, and I hope this good work continues. A decision by City Council to adopt this report will have a ripple effect on other jurisdictions across Metro Vancouver and the country."
Musqueam Indian Band Chief Wayne Sparrow
"With the presentation of this final report, Musqueam, Squamish, Tsleil-Waututh, and the City of Vancouver are making history and demonstrating what can happen when we come together as truly collaborative partners. It won't be easy to implement these calls to action, but it is necessary work that will be worth it. We encourage all local governments to take note of the work we are doing here in Vancouver and consider how they can work towards implementing UNDRIP in a meaningful way in their own communities."