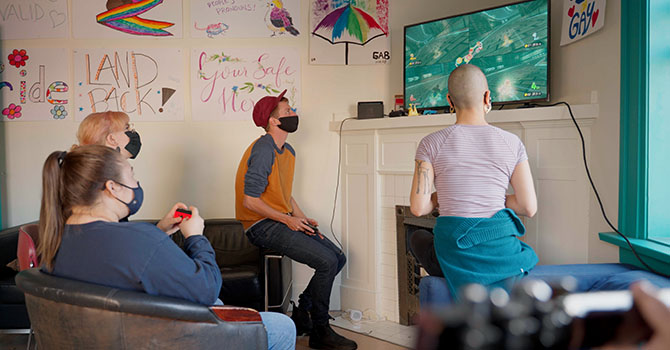 Council confirms new homes for QMUNITY and WAVAW
Nominal leases advance City's social infrastructure priorities
July 20 2022 –
At intersections of equity, inclusion, resilience, gender safety, anti-racism, reconciliation, and decolonization, two of Vancouver's social service organizations are set to receive new spaces, enabling enhanced delivery of their integral community programs.
Yesterday's Council decisions include two milestone approvals for leases at nominal rates:
QMUNITY's lease signifies a key accomplishment towards building a future community hub, forming part of a 17-storey mixed-use building alongside 154 social housing units at 981 Davie Street. Approved for rezoning by Council in July 2021, construction is anticipated to begin within the next year, with completion planned for 2025.
WAVAW will be moving to a centrally located City-owned building in Downtown Vancouver, co-locating alongside other community-based social service organizations. WAVAW anticipates opening the doors to their new space in early 2023.
Women, girls, 2SLGBTQQIA+, non-binary, and gender-diverse people experience higher rates of all forms of gender-based and sexualized violence and harassment and, as a result, do not enjoy the same freedom of movement or level of access to public spaces as cisgender men. Over the course of the pandemic, gendered violence and 2SLGBTQQIA+ discrimination have risen in Vancouver.
Nominal leases with QMUNITY and WAVAW align with Spaces to Thrive and UN Safe Cities and Safe Public Spaces, which form part of our strong priorities and commitments towards critical social infrastructure for disproportionately impacted communities.
The new locations provide for office administration and multi-purpose spaces to accommodate much-needed programming, including culturally safe gatherings, workshops, counselling, and educational events.

Sky Spirit Studio has been retained by QMUNITY to design improved safety and accessibility for Indigenous and queer communities, and to create a space that feels like home to Vancouver's queer community through a decolonized and two-eyed seeing approach to place making. Sky Spirit is co-creating with QMUNITY a visibly coded, protected, and celebrated Indigiqueer/queer space. This innovative and transformative design project will celebrate queer, Two Spirit, non-binary, and marginalized identities, and people with disabilities. By creating visibly approachable and welcoming spaces for Two-Spirit, Trans, non-binary and Indigiqueer people, when historically these spaces have been destroyed and intentionally redacted, we can take a step in the right direction for restoring right relations.
Learn more about QMUNITY and WAVAW .
Quotes
Mayor Kennedy Stewart
"The mixed-use social services and housing project featuring QMUNITY is one of the most transformative projects we've invested in to date," says Mayor Kennedy Stewart. "This new permanent location will help QMUNITY expand their work and reach even more people. And perhaps most importantly, it will be a visible meeting place, a tangible symbol of how taking up space – real physical space – matters. I am also pleased to have WAVAW join other social service organizations in a new location. Together, these organizations provide critical support services to equity-denied individuals and help create a more inclusive and just Vancouver."
Dalya Israel, Executive Director, WAVAW
"WAVAW is incredibly grateful for the opportunity to move into the space and for the City's commitment to increasing access and safety for people of all marginalized genders. This move aligns with WAVAW's strategic goals of increased accessibility for survivors; we are thrilled to move to the downtown core and co-locate with such relevant and aligned partners. The nominal rent allows WAVAW to divert funds from previous rental costs and invest more sustainably in our life saving and affirming services for survivors, ensuring reliable and accessible programming for years to come," says Dalya Israel, Executive Director, WAVAW.
Christopher Vollan, Board Chair, QMUNITY
"QMUNITY's new home and community hub, through partnership with the City of Vancouver, will continue to build our capacity to improve the lives of all queer, trans, and Two-Spirit lives through services, connection and leadership. This is a significant and long-championed evolution for QMUNITY with many members, staff and stakeholders having worked for decades toward the goal of establishing safer and more inclusive spaces for all members of the 2SLGBTQIA+ community in Vancouver," says Christopher Vollan, Board Chair, QMUNITY.