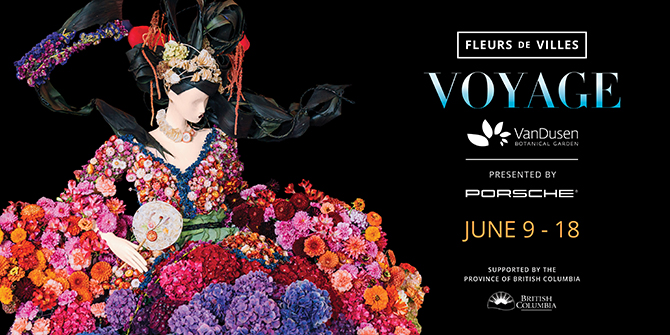 Fleurs de Villes VOYAGE to flourish at VanDusen Botanical Garden
May 1 2023 –
The Vancouver Board of Parks and Recreation, in partnership with Fleurs de Villes, proudly announces the Canadian West Coast premiere of Fleurs de Villes VOYAGE, presented by Porsche. This fresh, floral journey of discovery will connect visitors to the world through flowers at VanDusen Botanical Garden, June 9 to 18, 2023, as part of the flower show's global tour. This is an opportunity to celebrate the culture, people and heritage of destinations around the world "en fleurs."
"As admirers of Fleurs de Villes, we are absolutely thrilled to be able to work together to host the upcoming show at VanDusen Botanical Garden," explains Ema Tanaka, Garden Director at VanDusen Botanical Garden, Bloedel Conservatory, Sunset Nursery and QE Park. "This beautiful showcase of floral artistry and craftsmanship is a natural fit for the Garden, and we can't wait for visitors to experience these stunning displays integrated into the backdrop of our curated collections."
Fresh floral mannequins and spectacular installations will take visitors on a journey of discovery to iconic global destinations. Inspired by timeless monuments as well as the diverse traditions, festivals, fashion and notable people from cities around the world, the Fleurs de Villes VOYAGE show will be a feast of cultural storytelling, connecting the world through flowers like never before.
The space will consist of installations and activations to surprise, educate, and delight people of all ages, abilities, and backgrounds. What can only be described as an Instagram or photographer's paradise, the floral trail will begin with a beautiful flower festooned archway and wend its way through the magical garden pathways with fresh floral installations by Vancouver's top floral artists, a fun children's discovery trail, and live entertainment for floral enthusiasts.
"We are thrilled to be partnering with such a respected and historic Vancouver attraction as VanDusen Botanical Garden on this show," says Fleurs de Villes co-founder Karen Marshall. "We expect an inspirational, educational, gorgeous series this year, and can't wait to embark on this international journey of discovery. VanDusen sets the perfect stage to showcase the world-class floral talent of Vancouver, aligned with world-class brands! We look forward to creating stunning displays for Fleurs de Villes VOYAGE."
Visitors can attend informative floral demonstrations en plein air in the JARDIN area of the floral trail (Thursday to Sunday), and enjoy both alcoholic and non-alcoholic floral refreshments in the on-site pop-up cafe. Guests are encouraged to purchase a picnic or floral high tea at Truffles' Garden Cafe, located onsite.
Bloedel Conservatory will host another VOYAGE-inspired installation, dazzling guests in the nearby iconic park. Looking for something to take home as a souvenir? A weekend flower market will be part of the floral trail, in addition to a satellite pop-up of fresh florals hosted by the Vancouver Marriott Pinnacle Downtown, where they will offer a special cocktail menu with seven cocktails inspired by the seven wonders of the world.
Tickets ($10 children, $26 adults, $24 VBGA members + GST and service fees) go on sale today, May 1, at 10 a.m. through vandusengarden.ca. Tickets also include admission to the entire 55-acres of VanDusen Botanical Garden.
For tickets and event information please visit vandusengarden.ca.
For more information about Fleurs de Villes, please visit fleursdevilles.com