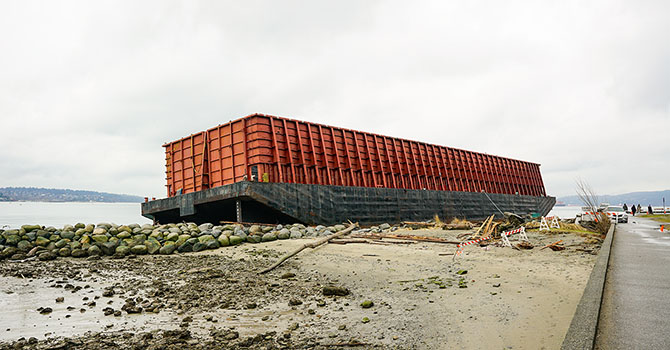 Floating days are over for barge at English Bay
Vessel to be disassembled and removed in pieces
February 9 2022 –
Ever since it became stranded at Sunset Beach in last November's windstorm, removing the now-famous English Bay barge via the water was planned.

Following a detailed structural assessment of the vessel and its hull, engineers have determined it is not possible to refloat the barge. A process is now underway to remove the barge over the coming months by taking it apart in pieces.
Local firm Vancouver Pile Driving Ltd. (VanPile) has been contracted to carry out the barge's deconstruction and removal. The deconstruction work is expected to take 12 to 15 weeks, and will be complex, taking into account site security, tide levels, public safety, and measures to protect the sensitive marine environment surrounding the barge.
VanPile will lead this work and be supported by a variety of government agencies, including:
Fisheries and Oceans Canada
The Canadian Coast Guard
The Vancouver Fraser Port Authority
The City of Vancouver
The Vancouver Board of Parks and Recreation
Minimizing impacts
VanPile has received advice to avoid and minimize impacts to fish and fish habitat from Fisheries and Oceans Canada as part of the planning process. Environmental, archeological, and structural assessments are underway by VanPile as part of the preparation for the barge's removal.
Ahead of the deconstruction work, the area surrounding the barge will be converted into a worksite with necessary fencing, detours, and signage, which will provide the public and seawall users with additional information about the work underway. Planning and preparation are ongoing, but timing for the deconstruction activity is to be determined and will be communicated once known.