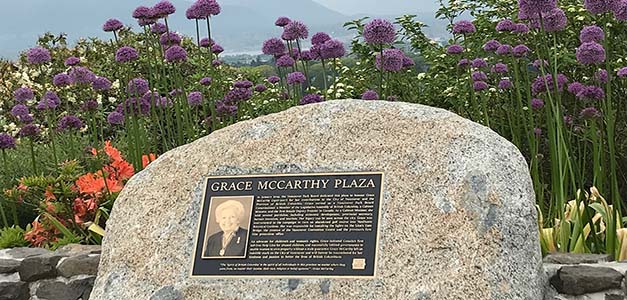 Former Park Board Vice Chair commemorated with newly named 'Grace McCarthy Plaza'
Grace McCarthy was a true Park Board pioneer and her passion for her hometown of Vancouver can be seen across the city.
Stuart Mackinnon, Park Board Chair
May 27 2022 –
The Vancouver Board of Parks and Recreation today commemorates influential politician, former Park Board Vice Chair and lifelong ambassador for the city's greenspaces, Grace McCarthy, with a new plaque and plaza by Bloedel Conservatory.
"Grace McCarthy was a true Park Board pioneer and her passion for her hometown of Vancouver can be seen across the city," says Park Board Chair Stuart Mackinnon. "VanDusen Botanical Garden, Stanley Park Christmas Train, the lights of Lions Gate Bridge, we can enjoy these cherished landmarks today thanks to Grace's unwavering drive and commitment."
"Grace was instrumental in seeing the Bloedel Conservatory opened in 1969 and I can't think of a more appropriate place to celebrate her legacy. Grace McCarthy Plaza is a fitting tribute to a proud public servant of the city."
During her three terms on the Park Board between 1960 and 1966, Grace led efforts to secure open spaces for park development and coordinate recreational activities for people with disabilities. She was elected as the first female Vice Chair in 1966 and successfully ran for Provincial election the same year.
History
A former florist, Grace's love and appreciation for horticulture influenced some of her most noteworthy work with the Park Board. She worked tirelessly to ensure that Bloedel Conservatory was completed as a Canadian Centennial project, and campaigned throughout the 1960s for part of the abandoned Shaughnessy Golf Course to become what is now known as VanDusen Botanical Garden. Once elected to the Legislative Assembly, she continued her fight to fund the Garden and, in 1970, made the long-awaited announcement that the Province would provide $1 million to its development.
In her time as member of the legislative assembly for the Vancouver-Little Mountain Constituency, she successfully lobbied provincial and federal governments to enable women to apply for mortgages without a male guarantor. And her appointment as the first female Deputy Premier in Canada paved the way for generations of women in provincial politics.
Following Grace's passing in 2017, the Park Board directed staff to work with family members to identify an appropriate space to recognize her legacy.
Grace McCarthy Plaza, located at the top of Queen Elizabeth Park, is a popular viewpoint and destination for residents and visitors alike.
The Grace McCarthy Scrapbook Collection
In 2011, Grace McCarthy donated 89 scrapbooks to the Simon Fraser University Library.
These scrapbooks feature photographs, correspondence, clippings and press releases dating from 1960-1991 and provide a snapshot of her political career and contributions to British Columbia's political, cultural, and economic development.