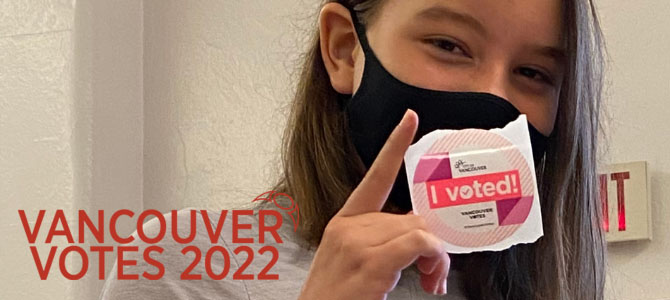 Kids Vote fosters participation in future elections
September 23 2022 –
On Saturday, October 1 and Saturday, October 8, children in Vancouver aged 12 and under can experience voting in an election through this year's Kids Votes program.
The Vancouver Election Office encourages parents to bring their children to an advance voting place on those days. While the parents are voting in the Vancouver Election, kids will be receiving a ballot for Kids Vote.
Just like with adult voters, children are encouraged to take some time to read the questions in advance, think about their answers, and plan their vote before they arrive.
Results from Kids Votes will be released on Saturday, October 15 before the unofficial results from the election.
Advance voting
To avoid long waits on Election Day, eligible voters are encouraged to vote on advance voting days. As in previous elections, Vancouver voters may vote anywhere that is convenient for them.
Advance voting is available from 8 am to 8 pm on:
Saturday, October 1
Wednesday, October 5
Saturday, October 8
Tuesday, October 11
Thursday, October 13
For a full list of advance voting places, visit vancouver.ca/vote
Extra help for voters
On advance voting days, voters who need help marking a ballot and want to use a ballot marking device, may visit:
Roundhouse Community Centre (181 Roundhouse Mews)
Trout Lake Community Centre (3360 Victoria Drive)
There will be instructions on how to use this device.
The device can help mark a ballot with:
Sip-and-puff, paddle, or other accessibility devices
Audio instructions and braille markings on paddles and buttons
Large print or high-colour contrast
American Sign Language (ASL) will be available by video chat on advance voting days.
Most election information have been translated to Traditional Chinese, Simplified Chinese, Tagalog, Punjabi, Vietnamese, Spanish, Korean, Farsi, French, and Japanese on vancouver.ca/vote, and is also available in braille and American Sign Language.
For more information, voters can go to vancouver.ca/vote or call 3-1-1.