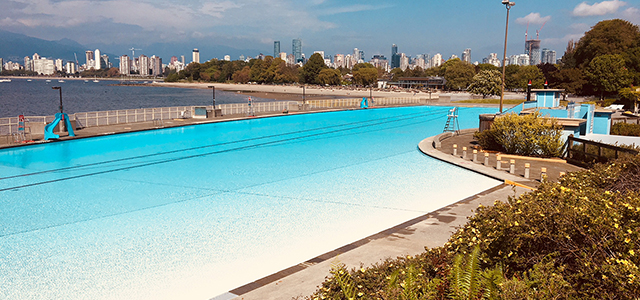 Kits pool to open Sunday June 4, 2023
May 26 2023 –
On Sunday June 4, 2023, the Vancouver Board of Parks and Recreation will re-open beloved Kitsilano pool.

Critical repairs involving filling cracks, mechanical testing and systems are close to complete following a cool, wet spring. The need for 10+ days of consecutive dry and warm weather (over 10 degrees Celsius) meant the start of repairs were delayed until late in April.
Due to expected demand, it is recommended outdoor pool users register online in advance through Showpass . Reservations can be booked 3 days prior at 12pm. There will be a number of sessions available for drop-ins; however, admission is not guaranteed.
Vancouver Park Board's Maple Grove and Hillcrest outdoor pools will open on June 15. More operational details to follow in the coming weeks.
Regular Season Hours of Operations
Session
Kitsilano Pool
New Brighton
Second Beach
Morning
7am to 8:30am lengths swim
9am to 11:30am public swim
7am to 8:30am lengths swim
9am to 11:30am public swim
N/A
Afternoon and Evening
12pm to 2:30pm public swim
3pm to 5:30pm public swim
6pm to 8:30pm public swim
12pm to 2:30pm public swim
3pm to 5:30pm public swim
6pm to 8:30pm public swim
12pm to 2:30pm public swim
3pm to 5:30pm public swim
6pm to 8:30pm public swim
Learn more about schedules, safety and registration for outdoor pools here: https://vancouver.ca/parks-recreation-culture/swimming-pools.aspx