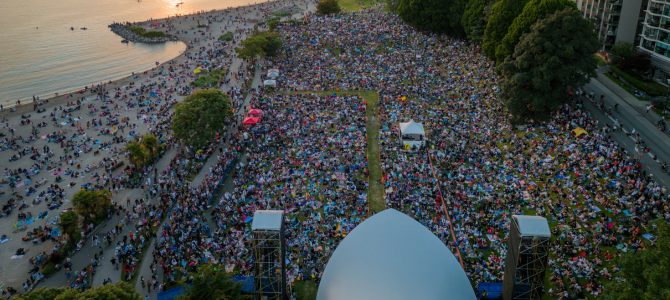 Mark your calendars for the 2023 Symphony at Sunset performance!
June 9 2023 –
The Vancouver Board of Parks and Recreation, in partnership with the Vancouver Symphony Orchestra (VSO), is thrilled to announce that Symphony at Sunset will be returning to dazzle audiences with an open-air concert on Saturday, July 8, 2023.
Last year, over 15,000 people attended the event at Sunset Beach Park, where they were immersed in the theme of celebration led by VSO Music Director, Maestro Otto Tausk, with performances centered on dance! Event grounds were open all day for picnic-goers to set up early as space is first-come-first-serve.
This year, VSO has arranged a set program to delight and inspire with selections ranging from the William Tell Overture and Max Richter's Four Seasons Recomposed, to the beloved movie scores of Ben Hur, Star Wars and Jurassic Park.
Event Details
Date: Saturday, July 8, 2023
Location: Sunset Beach Park
Admission: Free
A formal announcement with information on repertoire, family programming, traffic impacts and transit information will be shared in the coming weeks.