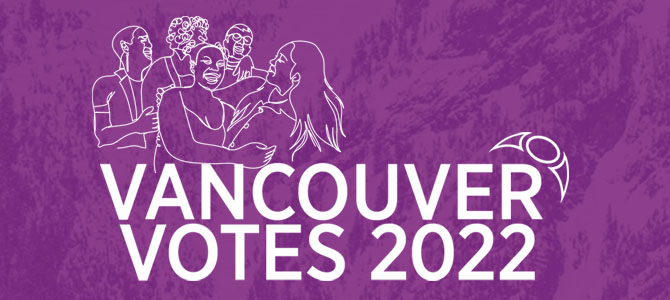 New eligible Vancouver voters encouraged to register by August 15
July 19 2022 –
New eligible voters should register to vote by Monday, August 15 to get on the voters list.
Why register to vote
Approximately 450,000 voters are registered to vote in Vancouver's election this October. All registered voters will receive a voter information card that they could use for faster processing times at the voting place.
The 2018 Vancouver Election had a 39 per cent voter turnout, or 176,450 voters – higher than the historic average of 36 per cent. Those who are registered to vote ahead of the election are more likely to vote as they receive a voter information card.
How to get on the voters list
We use the voters list provided by Elections BC. To register in advance and get on the voters list, please fill out a form at Elections BC or call 1-800-661-8683.
Those who voted in the last provincial election are automatically on Vancouver's voter list and will not need to register again. Vancouver residents may check if they are already registered by visiting 2022 election.
Registered voters can also update their name or address, or request to remove names from the voters list (for example, a voter has moved, a voter is deceased, or a voter prefers to not be on the voters list) by Monday, August 15, 2022 by contacting Elections BC . Voters who do not register or update their information by this date may still do so when they vote in the fall.
Eligibility to vote
Eligible voters in Vancouver must meet all of the following qualifications:
Be 18 years old or older on election day (October 15, 2022)
Be a Canadian citizen
Have lived in B.C. for at least six months immediately before the day you register
Live in Vancouver (no minimum days required)
Not be disqualified by law from voting
About the Vancouver election
On Saturday, October 15, Vancouver voters will elect 1 mayor, 10 councillors, 7 Park Board commissioners, and 9 school trustees. For more information about the election, visit 2022 Election.
This information bulletin is available in: