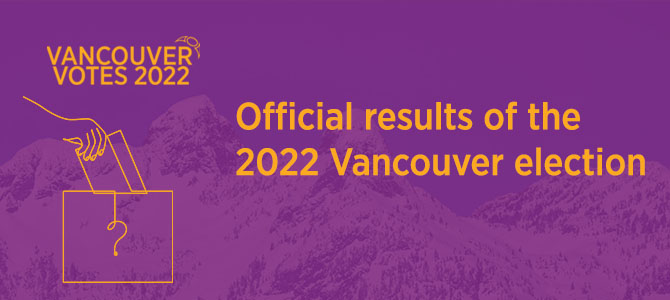 Official 2022 Vancouver election results
October 19 2022 –
Vancouver voters have officially elected a new mayor, 10 councillors, 7 Park Board commissioners, and 9 school trustees.
As per section 108 of the Vancouver Charter, the Chief Election Officer has declared the following candidates elected after receiving the highest number of votes cast for the respective offices. The names of the elected candidates, political party and number of votes received are as follows.
Office of the Mayor (one elected)
SIM, Ken: 85,732
Office of Councillor (10 elected)
KIRBY-YUNG, Sarah: 72,545
DOMINATO, Lisa: 70,415
MONTAGUE, Brian: 68,618
KLASSEN, Mike: 65,586
MEISZNER, Peter: 63,275
BLIGH, Rebecca: 62,765
ZHOU, Lenny: 62,393
CARR, Adriane: 41,831
BOYLE, Christine: 38,465
FRY, Pete: 37,270
Office of the Park Board Commissioner (seven elected)
JENSEN, Scott: 71,174
HAER, Angela Kate: 63,635
CHRISTENSEN, Laura: 63,618
HOWARD, Marie-Claire: 63,407
VIRDI, Jas: 58,709
BASTYOVANSZKY, Brennan: 58,247
DIGBY, Tom: 39,243
Office of the School Trustee (nine elected)
JUNG, Victoria: 69,027
CHIEN, Alfred: 67,326
ZHANG, Josh: 64,370
RICHARDSON, Christopher: 64,048
FARIDKOT, Preeti: 63,807
REDDY, Jennifer: 44,534
MAH, Suzie: 42,379
CHAN-PEDLEY, Lois: 41,356
FRASER, Janet: 41,179
Capital Plan borrowing questions
Vancouver voters had also chosen a response for three Capital Plan borrowing questions, which will require infrastructure funding from 2023 to 2026.
The official results are:
| Questions | Number of yes votes | Number of no votes |
| --- | --- | --- |
| 1. Transportation and core operating technology | 116,591 | 32,964 |
| 2. Community facilities | 101,715 | 47,163 |
| 3. Parks, public safety and other civic facilities, climate adaptation and other priorities emerging priorities | 114,254 | 35,582 |
Voter turnout
The final number of ballots cast was 171,494 ballots, equating to a voter turnout of 36.3% (out of 472,665 registered voters).
Advance voting for this year's election was a record for the City with 65,127 voters in total over the span of five days at 22 voting places. The Election Office issued 10,423 vote by mail packages in total, 7,217 were returned. This is the first year that all eligible voters were able to vote by mail.
For more basic statistics on the 2022 Vancouver election, visit our Open Data Portal. A detailed report including an exit survey for voters will be released in the spring of 2023.
Inauguration
Inauguration ceremonies will take place on November 7, 2022 for City Council, Park Board and School Board.