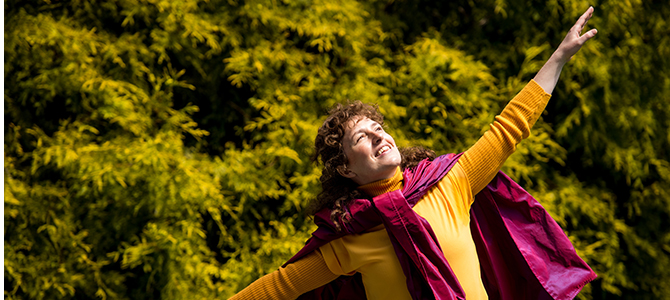 Foolish Productions dancer Sarah Gallos
Park Board announces new creative hubs for artist collectives, local food and environmental groups
January 13 2023 –
We are pleased to welcome four exciting new residencies in parks across the city as part of our much-loved Fieldhouse Activation Program.
Since 2011, we have repurposed former caretaker suites into active, creative community spaces. The program now includes 22 residencies, which form a vibrant network of arts, culture, local food, and environmental stewardship projects in parks and neighbourhoods across Vancouver.
The new residencies are:
Musqueam, Squamish, and Tsleil-Waututh residency in Stanley Park

T'uy't'tanat-Cease Wyss (Sḵwx̱wú7mesh, Sto:lo, Hawaiian, Swiss) is an educator, interdisciplinary artist, and Indigenous ethnobotanist engaged in community-based teaching and sharing. This cultural residency supports a community member from one of the three host Nations to work in a creative, activated, and community-engaged space in a part of their unceded territory currently known as Stanley Park.

Foolish Operations at Riley Park

Foolish Operations welcomes babies, toddlers, preschoolers, and people of all generations to discover and create new dance experiences together. The organization collaborates with artists, educators, and specialists to spark inspiration between communities, disciplines, and fields of knowledge. The Foolish Operations team is excited to grow roots and become good neighbours in Riley Park/Little Mountain.

Vancouver Urban Food Forest Foundation (VUFFF) at Burrard View Park Fieldhouse

VUFFF is an intergenerational, cross-cultural, knowledge-sharing hub for workshops, events, and land-based learning, rooted in the Burrard View Park community. This group of "co-creators" care deeply about the area and look forward to activating the fieldhouse and park with food-related workshops, resurfacing Indigenous history, working toward Reconciliation, and amplifying the voices of underrepresented community members.

The Fig Tree Palace at Jonathan Rogers Park Fieldhouse

The New Page Foundation Fig Tree Palace works to support formerly incarcerated people as they come back into outside society through social engagement, arts, culture, and food justice work. They host a variety of art-based workshops (including screen printing, beading and writing), food justice projects (gardening, processing, cooking, and eating) and community events (poetry readings, drum circles, and other cultural events). The Fig Tree Palace project aims to build community through art and food justice.
About the Fieldhouse Activation Program
These four new groups join 18 others already working in fieldhouses across the city. Fieldhouse space is provided in exchange for community-based creative engagement including arts, food, and environmental stewardship projects, workshops, community celebrations, and performances, totaling 350 hours throughout the year. The community-engaged work is centered out of the fieldhouse and surrounding parks.
We would like to take this opportunity to sincerely thank the Iris Film Collective residency at Burrard View Park Fieldhouse and the Merakos residency at Riley Park Fieldhouse for their incredible and innovative work with community through the Fieldhouse Activation Program.
Quotes
Park Board Chair, Scott Jensen
"Our unique fieldhouse residencies have been connecting, inspiring, and engaging communities for over a decade," said Park Board Chair Scott Jensen. "I'm delighted to welcome these four new residencies to Vancouver's parks and can't wait to see these hubs of creativity and community spirit take root in the city's neighbourhood greenspaces"