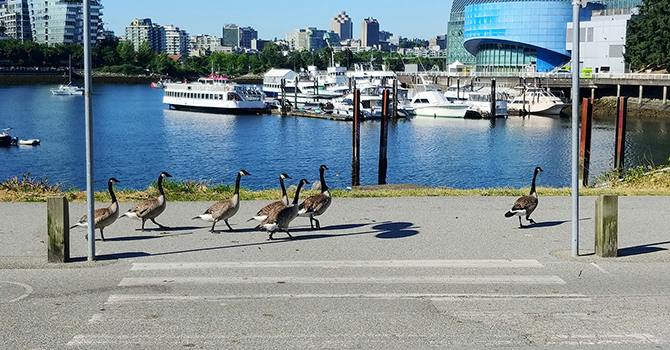 Park Board seeks public's help to keep Canada goose population in check
April 12 2022 –
As springtime brings a burst of new life to the city, we're asking for your help in managing the population of one of Vancouver's most prolific and problematic residents: the Canada goose.
While their striking colours, gaggle of fluffy goslings, and sometimes amusing (sometimes annoying) tendencies to wander slowly in front of traffic, Canada geese are often the subject of photographers' and tourists' attention.
But – owing to an ideal habitat and lack of natural predators – Vancouver's Canada goose population is booming, causing widespread damage to parks and public enjoyment, including:
Eating young grass in newly seeded fields and lawns
Digging holes with their beaks around sprinkler heads when trying to drink water causing tripping hazards and damage to irrigation systems
Droppings on beaches, picnic areas, and sports fields, ending up on sports equipment, balls, and causing people to slip
Polluting outdoor swimming pools, spray parks and water features
Defecating on memorial benches
Becoming aggressive during mating season
Where to find Canada geese
Several thousand Canada geese live in Vancouver and tend to congregate in areas where grassy clearings meet the shoreline, such as:
Stanley Park
English Bay
Sunset Beach
Trout Lake
False Creek
VanDusen Botanical Garden
Though they gather in parks for feeding and moulting, they prefer to nest on spaces far above the ground – typically the roofs and balconies of private and public buildings and tall, topped trees. A single goose standing in the same spot day-on-day is a strong indicator that a nest may be nearby.
Help locate nests
Help us locate nests to allow Park Board staff to addle eggs. Addling involves replacing viable eggs with eggs that have been pre-treated so that they will not hatch. This approach to limiting population growth is supported by the BC SPCA and People for the Ethical Treatment of Animals (PETA). Park Board staff have the necessary federal permits to perform this activity, as issued by Environment Canada under the Migratory Birds Convention Act .
Why you shouldn't feed Canada geese
Another way we're asking you to help control the population of Canada geese is by not feeding them. Not only is unnatural food bad for their health, but feeding causes geese to congregate in high-traffic areas and popular parks.
As Canada geese produce more excrement for their size and the amount that they eat than most species, that also presents a serious challenge to cleaning up after them. What's more, wildlife feeding is prohibited across all Vancouver parks and beaches, and can incur a fine of up to $500.
Supplemental feeding by humans can also contribute to geese being able to lay more than one clutch of eight eggs per season; meaning that if one clutch does not hatch, they can replace it. In nature, without food from humans, this wouldn't happen.
How to report
Canada geese nests
Wildlife feeding