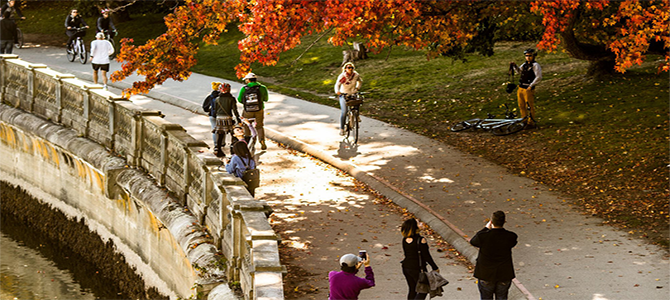 Stanley Park Mobility Study survey currently open
May 26 2022 –
The Vancouver Park Board is currently studying how people access and move within Stanley Park, to generate new ideas to improve access for everyone while focusing on sustainable transportation options.
We want to hear residents' and visitors' ideas and thoughts through a survey that is open now.
The survey is open from May 18 to June 9, 2022.
Take the online survey and share your ideas
Background
Stanley Park is one of the most popular attractions of our city and we want to ensure that transit to and within the park meets the needs of both residents and visitors while building resiliency for future generations.
Park usage has grown exponentially over the pandemic, our region's population continues to grow rapidly, and the park attracts millions of tourists every year. This is our opportunity to rethink mobility in the park and enhance the park's experience.
The Stanley Park Mobility Study is focusing on sustainable transportation modes and looking to determine the potential opportunities and challenges of different approaches to reducing private vehicle traffic within the park.
The Mobility Study will include:
Data collection
Analysis on travel patterns in the Park
Engagement with stakeholders and the public
Making Stanley Park more accessible
We have heard significant feedback on the temporary bike lane over the past few years and, while this survey will build on that data, we want people to think broadly about how visitors should be able to move in the park. A bike lane on Park Drive is only one of many options that are being considered.
This is the first full study into mobility within the park since 1996 and looks at how we move within the park using all modes of transport.
In addition, traffic congestion over the recent long weekend underlined how important it is that we make access to the park more accessible. Traffic congestion has been common over peak periods in the park for many years and the most recent long weekend was the busiest May long weekend the park has ever seen.
While the Mobility Study will identify longer term approaches, we are also working to identify more rapid improvements to address congestion at entry and exit points from the park and make continual improvements to the temporary bike lane.