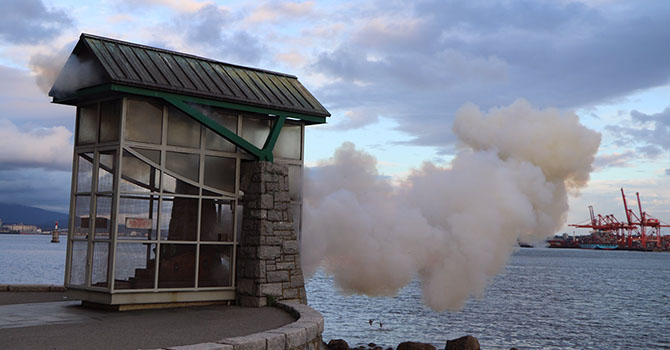 Stanley Park Nine O'Clock Gun to temporarily pause
February 10 2022 –
Beginning tomorrow, and until further notice, the Nine O'Clock Gun in Stanley Park will temporarily suspend its regular firing schedule due to a shortage of black powder (BP), the specific powder the cannon requires.
This shortage is not unique to Canada; BP is in short supply throughout North America and Europe due to supply chain challenges and a decrease in manufacturing. Since the Park Board's long-time supplier closed last fall, staff were only able to secure enough powder to fire until today.
Staff will continue to explore alternative options in order to resume operation as soon as possible.
The firing of the Nine O'Clock Gun was last paused in October 2021 when a large tree fell and damaged the shed where staff prepare the cannon charges. Interim repairs were made to the shed and the nine o'clock tradition resumed the following month.