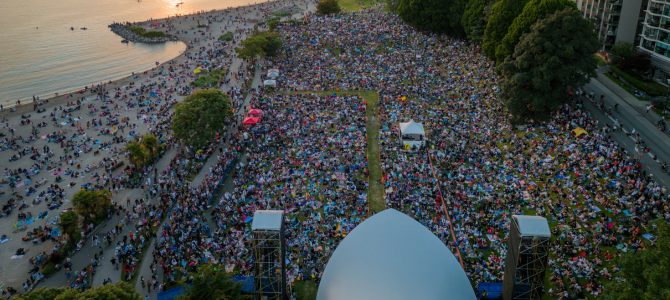 Symphony at Sunset returns for a pitch perfect celebration
Being able to bring thousands of people together, in a beautiful park on a summer evening to experience world-renowned musicians perform in the downtown core of a major city, is nothing short of unbelievable.
Vancouver Park Board Chair Stuart Mackinnon
June 16 2022 –
The Vancouver Board of Parks and Recreation, in partnership with Vancouver Symphony Orchestra (VSO), is excited to announce the return of Symphony at Sunset, an open-air concert taking place on July 2, 2022 at Sunset Beach Park.
Music this year will tie into the theme of celebration and will be centered on dance, specifically the tango. Most of the music being performed was written by Astor Piazzolla, an Argentinian composer who revolutionized tango music into a new form: nuevo tango. VSO has also asked the incredible Dutch bandoneon artist, Carel Kraayenhof, who has performed with international artists including Sting, Ennio Morricone, and Yo-Yo Ma, to join as a featured soloist.
Event grounds will be open all day for picnic-goers to set up early, as space will be available on a first-come-first-serve basis. A friendly reminder to bring low chairs so as not to obstruct the view of other audience members. The Sunset Beach concession stand will be open for delicious food and drinks throughout the day and into the evening, as well as several food trucks parked throughout the grounds.
The prelude performance will begin at 7pm with performances by faculty and students from the VSO School of Music and a variety of soloists. True to its name, the concert will finish with a sunset performance by the Vancouver Symphony Orchestra starting with an orchestra arrangement of the Coast Salish Anthem, gifted to the VSO by the grandson of the late Chief Dan George.
Maestro Otto Tausk will be conducting the event and is now in his fourth season as Music Director of the VSO. Over the past few years in Vancouver, Tausk has led innovative reimagined seasons, in response to the pandemic, including showcasing the orchestra with a curated series of digital performances. In the upcoming 22/23 season in Vancouver, he will lead concert performances with special guests Itzhak Perlman, Col. Chris Hadfield, Hilary Hahn, and many more.
Event details
Date: Saturday, July 2, 2022
Time:

Prelude concert: 7pm to 7:50pm
Concert: 8pm to 9:30pm

Location: Sunset Beach Park
Admission: Free
Learn more about Symphony at Sunset
Quotes
Vancouver Park Board Chair Stuart Mackinnon
"Symphony at Sunset will be the first big event we've organized since the pandemic began," explains Vancouver Park Board Chair Stuart Mackinnon. "Being able to bring thousands of people together, in a beautiful park on a summer evening to experience world-renowned musicians perform in the downtown core of a major city, is nothing short of unbelievable. Everyone deserves the opportunity to see a concert this summer and by hosting at Sunset Beach, the event is not only accessible from a location standpoint, but is also free and open to anybody who wishes to stop by."
VSO Music Director Otto Tausk
"We are thrilled to return to Sunset Beach for an evening of beautiful music with Vancouver's world-class orchestra," states VSO Music Director Otto Tausk. "I am excited to join the people of Vancouver as we celebrate the joy of creating live music amongst the fantastic scenery of the city."