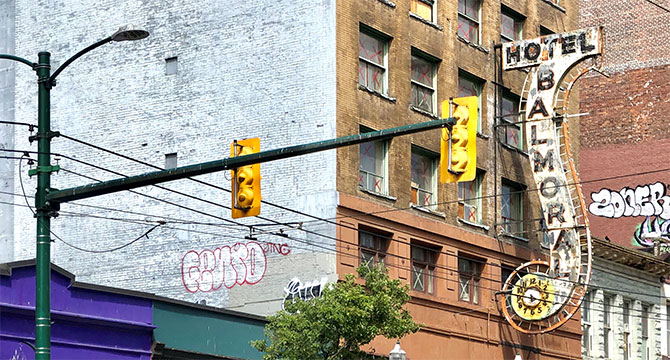 The Balmoral Hotel to be demolished due to life and fire safety concerns
February 15 2022 –
The City of Vancouver's Chief Building Official issued an order today requiring the demolition of the Balmoral Hotel due to numerous life safety concerns. The building poses a risk of injury to the public and persons adjacent to the building in the event of a fire or similar incident.
Despite our ongoing efforts to maintain the safety of the building, the decades of underinvestment and mismanagement by the building's previous owners was irreversible. After receiving two third-party engineering reports on the current fire and structural risks, it became clear that the building has deteriorated to the point that it poses a danger to the public and adjacent buildings.
Demolition planning has commenced and staff will work expeditiously to execute the order. Given the age, complexity, and condition of the building, removing the building will take several months to complete. We are actively working to engage contractors to scope and complete this work.
Once the demolition and environmental clean-up are accomplished, we will activate the vacant site until the time it is redeveloped to create new affordable housing in partnership with BC Housing.