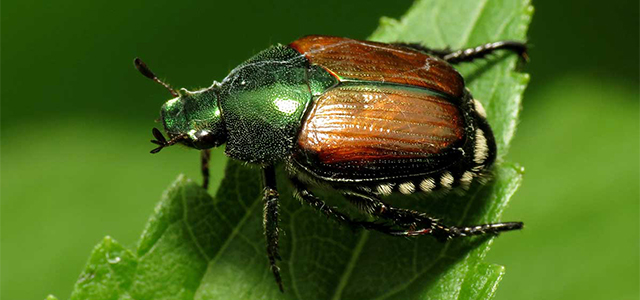 Treatment of invasive beetle set to resume in Vancouver this month
April 5 2022 –
Treatment to remove invasive beetles from our parks and green spaces will begin this month.
Since 2018, the Vancouver Board of Parks and Recreation, alongside partners including the City of Vancouver, Canadian Food Inspection Agency, BC Ministry of Agriculture and Food, Invasive Species Council of BC, and the BC Landscape and Nursery Association, has carried out an annual treatment program across Vancouver:
Parks
Medians
Boulevards
Other public lands
In 2021, the Japanese Beetle Eradication Response recorded a 64% reduction in beetle numbers compared to the previous year, demonstrating the continued success of the program.
The overall number of detections continues to decrease significantly when compared to the 8,276 beetles detected in 2018. Only 79 beetles were caught in 2021. However, a small number of Japanese beetles were detected both inside and outside of Vancouver's regulated area. As a result, this year's Japanese Beetle Eradication Response will be expanded to cover all areas where beetles were caught in 2020 and 2021.
Treatment areas
Treatment will begin on April 6 at Columbia Park and continue through the months of April and May at parks and public lands within the areas outlined in the treatment map . Approximately 50 hectares of public turf will be treated. (364 KB)
We are not closing parks and green spaces, but stay off the grass on treatment days. There will be Park Board staff and signage present at each site to advise on program activities and best practices, including keeping pets off the grass. In addition, letters will be delivered and signage posted ahead of boulevard treatments.
Treatment schedule
Dates are subject to change.
| Date | Area |
| --- | --- |
| Wednesday, April 6 | Columbia Park |
| Thursday, April 7 | George Wainborn Park |
| Friday, April 8 | Connaught Park |
| Sunday, April 10 | Charleson Park |
| Monday, April 11 | Oak Meadows Park |
| Tuesday, April 12 | Hadden Park/Kitsilano Beach Park |
| Wednesday, April 13 | Coopers' Park |
| Thursday, April 14 | Glen Park |
| Tuesday, April 19 | Queen Elizabeth Pitch and Putt |
| Wednesday, April 20 | Queen Elizabeth Park |
| Thursday, April 21 | Queen Elizabeth Park (Day two if needed) |
| Friday, April 22 | Carnarvon Park |
| Sunday, April 24 | Prince of Wales Park |
| Monday, April 25 | David Lam Park/Roundhouse Turntable Plaza |
| Tuesday, April 26 | Quilchena Park |
| Wednesday, April 27 | Rosemary Brown/Arbutus Greenway |
| Thursday, April 28 | VanDusen Garden |
| Friday, April 29 | Helmcken Park |
| May 2-28 | City medians and boulevards |
About the Japanese beetle
The Japanese beetle:
Is an invasive plant pest that was first introduced to Eastern North America in 1916.
Can cause significant damage to parks, lawns, golf courses, landscapes, and the agriculture industry
Can also affect the beauty and health of Vancouver's ecosystem
If left untreated, the beetle poses a serious risk to plants and trees in Vancouver and neighbouring municipalities.
The Japanese Beetle Eradication Response has been in operation since 2018, following the first detection of the species in downtown Vancouver's False Creek area in 2017.
About the treatment
To treat Vancouver's parks and green spaces, pest management specialists will manually apply a larvicide called Acelepryn® directly to the soil. Acelepryn targets root-eating grubs and is not harmful to:
People
Pets
Mammals
Birds
Bees
Butterflies
Other animals
Acelepryn® is approved for use by the Pest Management Regulatory Agency of Health Canada and is permitted under our Health By-law . (177 KB)