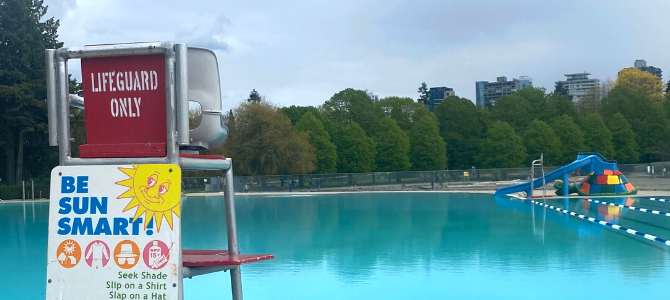 Vancouver Parks and Rec is ready to dive into another outdoor pool and beach season
May 18 2022 –
On May 21, 2022, the Vancouver Board of Parks and Recreation will open two of its outdoor pools and staff beaches with lifeguards to help people safely enjoy time in and around the city's waters this summer.
Beaches
As of May 21, lifeguards will patrol and supervise designated swimming areas at beaches:
English Bay
Jericho
Kitsilano
Locarno
Spanish Banks East and West
Sunset
Second
Third
Patrolled swimming areas will be marked by red and yellow coloured flags from 11:30am to 8:30pm every day throughout the season.
Find information about beaches
Outdoor aquatic season schedule
Although COVID-19 safety processes have been lifted, it is recommended outdoor pool users register online in advance directly through MyZone.
There will be a limited number of sessions available for drop-ins and admission is not guaranteed. Registration for May 21 opens on May 18 at noon, and visitors can continue to book sessions three days in advance for the remainder of the season.
New Brighton and Second Beach pools will open for public and length swimming sessions on May 21. Operational hours have been extended to accommodate early-risers wanting to get laps in while the day is young, meaning length swimming will be open for two, longer sessions from 7:15am to 8:15am, and 8:30am to 9:30am.
Maple Grove and Hillcrest outdoor pools will open on June 15. More operational details to follow in the coming weeks.
Learn more about safety guidelines and registration for outdoor pools
Spray parks
On May 21, the following spray parks will be opening:
Chaldecott
Connaught
Harbour Green
Garden
Grandview
Hastings
Oak
Prince Edward
Pandora
MacLean spray park is currently undergoing renovations, but will reopen this summer.
Wading pools
Wading pool locations will begin operation on July 5.
Additional information for pools and beaches
On Water pilot continues
On May 21, the On Water pilot plan will continue, once again, into this summer. The pilot aims to assist with expanding the recreation opportunities, participation, and access to water while safely managing non-motorized watercraft activities at four swimming beaches:
Kitsilano
Spanish Banks East and West
Sunset Beach
Non-motorized watercrafts include any on-water recreation activities involving small watercraft powered by people and other natural elements, such as canoeing, kayaking, rowing, dragon boating, outrigging, paddle boarding, surf skiing, windsurfing, and small craft sailing. Kite surfing and boarding will only be available between noon and 7pm at the Spanish Banks East site.
Black and white quartered beach flags will denote the designated launch and recovery access areas for non-motorized watercrafts from 11:30am to 8:30pm, Victoria Day long weekend to Labour Day long weekend. Access is unregulated outside of these days, times, and locations.