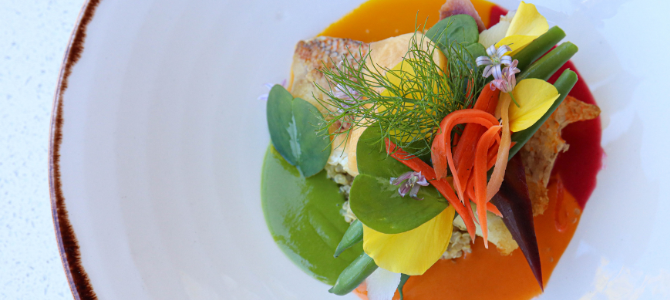 VanDusen invites visitors to 'eat a rainbow' while visiting the garden
July 19 2022 –
VanDusen Botanical Garden is excited to announce the annual Taste of the Garden series is back. From now until early fall, Chef Matthew Phillip will be creating memorable dishes at Shaughnessy Restaurant using fresh ingredients harvested directly from the VanDusen Vegetable Garden.
This year's theme is once again 'eat a rainbow', as VanDusen proudly grows over one hundred varieties of vegetables in every colour imaginable. The beautiful dishes created by Chef Phillip are a treat for not only the taste buds, but for the eyes, too! Menus will rotate weekly based on inspiration from seasonal produce, botanicals, and herbs. Every bite will be as fresh as it can possibly be, which is exactly what local, urban, sustainable cuisine is all about.
It may be shocking for some to learn that plants produce over 25,000 natural phytochemicals to stay healthy and protect themselves from harmful insects, herbivores and even UV damage. These include pigments that give flowers, fruits and vegetables their rich colours to attract pollinators and seed dispersers. VanDusen also invites residents to stop by the vegetable garden on-site to learn about how each colour group can improve well-being and overall health.
75% of VanDusen's annual harvest is donated to the Gathering Place Community Centre, which serves between 300 and 400 lunches and dinners per day to community members who have food security needs. The remaining 25% is what is provided to Shaughnessy Restaurant for the Taste of the Garden menu.
At the end of the program, a monetary donation will be made by Shaughnessy Restaurant to Vancouver Neighbourhood Food Networks in the amount the restaurant would have had to spend on produce if it had not already been grown on the premise.
Shaughnessy Restaurant diners who are unable to make it out this summer need not worry, as a variety of preservatives are canned from fresh garden produce and served with dishes year-round.
Learn more about Taste of the Garden and VanDusen's partnership with the Gathering Place Community Centre