Sidewalk fixtures and amenities
Vancouver sidewalks and streets have many fixtures and amenities that keep our city tidy, accessible, and vibrant.
Street fixtures and amenities are furnishings that just seem to fit in on our City streets and sidewalks. These fixtures provide a function, like seating, waste management, and storage.
Our street fixtures help keep Vancouver tidier, and add convenience for everyone.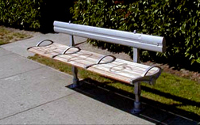 Benches
Contact 3-1-1 to suggest a location for a new bench, or to request maintenance on a bench on public sidewalks. Priority for new bench requests is given to busy pedestrian areas.
You can also have park benches dedicated in someone's memory through the Vancouver Board of Parks and Recreation.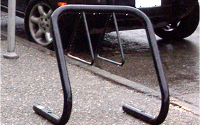 Bike racks
We install bike parking in commercial areas to support cyclists and businesses. To request bike parking at a location, phone 3-1-1.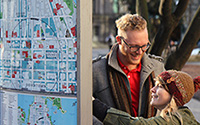 Map stands
Easily find your way around town using over 200 map stands placed throughout Vancouver. Our wayfinding map stands help you locate nearby attractions, amenities, drinking fountains, public toilets, public transit connections, and accessibility aids.
Litter cans and recycling receptacles
The City installs garbage cans and recycling receptacles that coordinate with diverse streetscapes, suit the needs of neighbourhoods, and promote waste diversion. Our program is designed to:
Place litter cans at high-traffic transit stops, retail and entertainment areas, and parks
Encourage and promote recycling
Keep litter off our streets, sidewalks, and parks
Request a garbage can cleanup online
Contact 3-1-1 to suggest areas where new city garbage cans can be installed.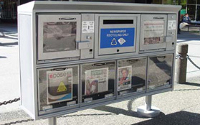 Newspaper boxes
Newspaper boxes provide a useful service to pedestrians. Contact 3-1-1 for more information about free-standing newsboxes, or multiple publication newsracks like the one in the photo.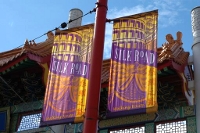 Banners and flags
Local business associations, non-profit groups, charitable organizations, and special events organizations can install banners and flags on City streets. Visit the Doing Business section of the website to find out more, and download the application package.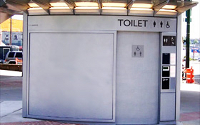 Automated public toilets
The City has installed automated public toilets in the downtown area. They are automatically cleaned and sanitized after each use, and are available to the public 24 hours a day for free.