How traffic circles work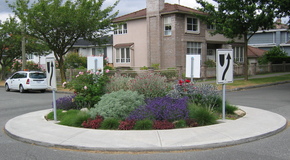 A traffic circle, also called a traffic roundabout, is a raised island located in the centre of an intersection.
The City of Vancouver installs traffic circles in residential areas to help to reduce:
Vehicle speeds
Collisions at intersections
How to navigate a traffic circle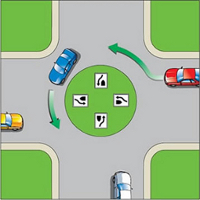 There are three rules to remember when navigating a traffic circle:
Keep to the right and travel through the intersection in a counter clockwise direction around the island, as shown in the above image.
Give right-of-way to any vehicle already in the intersection.
If you enter a traffic circle at the same time as another driver, the vehicle to the right has right-of-way.
Traffic calming installed as part of a community plan
When the City redevelops areas within a community as part of a larger community plan, the cost to install traffic calming measures is 100% funded by the City's capital plan budget.