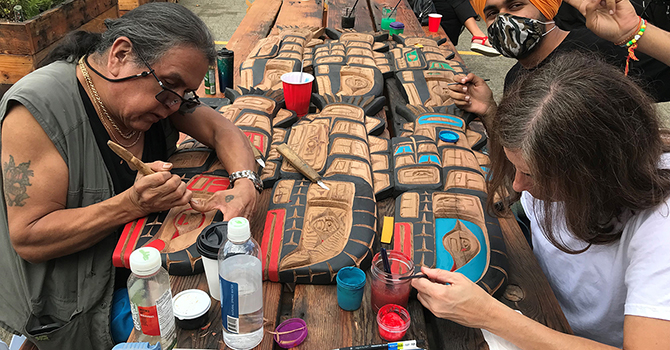 Artists in Communities has returned for community-engaged arts practice
April 6 2022 –
The Vancouver Park Board is pleased to announce the Artists in Communities (AIC) artist in residence projects that will take place at False Creek and Marpole Oakridge Community Centres in 2022.
Launched in 1994, the AIC program is an annual collaboration between artists, community centre associations, and the Vancouver Board of Parks and Recreation. The program fosters creativity in communities through a range of artist-led projects including visual arts, creative writing, dance, music, and more. Artists awarded a residency spend approximately 300 hours working in and with communities on collaborative projects designed to bring the arts to everyday life for people of all ages and abilities.
Artists receive funding from the Vancouver Board of Parks and Recreation as well as participating community centre associations for the year-long residencies in community. Successful artists were selected from a pool of 25 applicants by an adjudication committee consisting of fellow artists, Park Board staff, and community members.
In addition to new projects at Marpole-Oakridge and False Creek community centres, a third AIC project is ongoing at RayCam Community Centre.
This year's Artists in Communities
Sylvan Hamburger, False Creek Community Centre
Mudflats, Sylvan Hamburger's project, draws its name from the ecosystem that predated settler development in False Creek. Throughout the project, Sylvan will glean materials from the neighbourhood's industrial past to better understand its current circumstance. Through printmaking, drawing, and textiles, Mudflats explores salvaged materials and creative place-making.
Sylvan is hosting regular pop-up workshops in and around the False Creek Community Centre. These free, public events are an opportunity to meet neighbours, learn about the area's history, and create vibrant installations that will hang throughout the community centre. All are welcome to join – keep an eye out for the colourful tent.
Sylvan will be accepting donations of old sheets and fabric. Bring your own linens!
Find more information on the False Creek project
Jimmy Joseph and Lisa G, Marpole Oakridge Community Centre
Join artists Jimmy Joseph and Lisa G to co-create a community art panel that will be displayed in the Marpole Oakridge Community Centre. Everyone is welcome to help design, paint, and document this centerpiece artwork during regular weekly outdoor workshops from April to August 2022.
Jimmy Joseph is a fourth-generation master carver from Kwagiulth in Alert Bay, and has been carving professionally for over 40 years. He lives a traditional lifestyle, which includes hunting, fishing, and attending potlatches. Jimmy is a residential school survivor and an active member of the Native American Church. Jimmy stopped drinking as a result of his passion for carving and has never looked back.
Lisa G is a member of the Iris Film Collective that currently works out of the Burrardview Fieldhouse as part of the Vancouver Park Board Fieldhouse Activation Project. Since 2005, she has conducted community-led filmmaking, including the Our World program, which visits remote Indigenous communities across Canada providing opportunities to create community directed films.
Hands-on workshops and storytelling will contribute to the creation of a three-panel carved and painted artwork. This community process also involves the production of a short documentary film sharing how the piece was made.
Find more information on the Marpole Oakridge project
Bracken Hanuse Corlett, Raycam Community Centre
Bracken's AIC project continues at Raycam Community Centre, incorporating Raycam youth in multimedia workshops focusing on digital media art practices including video editing, filming, digital illustration and design, and collage. Their visual storytelling explores how they relate to home, community, and identity in the past, present, and future.
Bracken is an interdisciplinary artist of Wuikinuxv and Klahoose Nations ancestry. He unveils neighbourhood history with community members and creates art speaking to the future plans of the community.
Find more information on the Raycam project