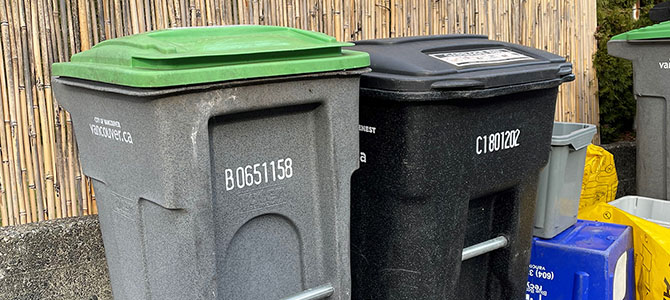 City back on track with green bin and garbage collection after weather disruptions
January 9 2023 –
Repeated major snowfall in late December of last year had a significant impact on our sanitation operations and we appreciate many residents have been without reliable waste collection.

City crews have since worked extended hours, seven days per week to catch up on cancelled or delayed garbage and green bin collection for approximately 30,000 addresses. Garbage collection is now up to date throughout the city, while crews anticipate to be fully caught up on collecting green bins by Wednesday, January 11.

After a big snowfall, our ability to collect garbage efficiently and on schedule slows down. Late last year when up to 20 centimeters of snow fell across Vancouver, green bin service was suspended and all available staff and vehicles concentrated on garbage collection. However, heavy snow on December 19 and 20 and again on December 23 created safety concerns, particularly in icy laneways where the majority of green bin and garbage collection takes place, forcing the cancellation of all garbage collection.
Recycling collection
Unlike garbage and green bin collection, which are funded by City taxes and managed by the City, collection of blue box recyclables is provided free of charge to residents by Recycle BC through their contractor. Recycling from residents in British Columbia is the responsibility of the producers of those materials and it is managed by Recycle BC on behalf of producers. Recycling collection suffered similar service delays and cancellations due to snow and ice, and many residents are still waiting to have their service resume.
Next steps
While residents will be noticing a return to their regular green bin and garbage service, future interruptions due to extreme winter weather remain a possibility. To ensure reliable green bin service through the winter months, we have adapted the green bin schedule to be bi-weekly in line with garbage collection. The change to a bi-weekly service also reduces the wear and tear on equipment and extends the life of our sanitation trucks, which are scheduled to be replaced.

Currently we are in the process of renewing its fleet of aging automated collection vehicles, however delivery of new vehicles is delayed due to supply chain and manufacturing challenges which is putting a strain on our sanitation operations.
Quotes
Councillor Sarah Kirby-Yung
"We know garbage and green bin collection are essential services residents rely on. We're sorry for the frustration caused by missed pickups," says Councillor Sarah Kirby-Yung. "This is an issue we take seriously, and we are asking staff to review processes and issues, and identify how we can improve response and communication during extreme weather events."
Mayor Ken Sim
"I've been hearing frustration from many residents who are dealing with overflowing bins," says Mayor Ken Sim. "I hear your concerns loud and clear. Council has been working closely with City staff to get garbage and green bin collection back on track. My office has also reached out directly to Recycle BC's executive director for a meeting to discuss the status of their services and when residents can expect collection of their recycling."
Download the VanCollect app or go online for garbage and green bin collection schedules, notifications, and up-to-date service alerts.