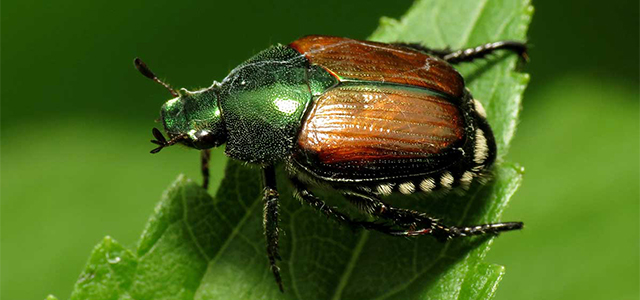 Disposing of plant materials from expanded Japanese beetle (Popillia japonica) regulated area
Residents should continue to use their green bin for yard trimmings
June 15 2022 –
The Japanese beetle (Popillia japonica) was first detected in BC in the False Creek area of Vancouver in 2017. This beetle can significantly damage landscape and ornamental plants, fruit and vegetable gardens, nurseries, orchards, and agricultural crops. To help prevent the spread of the beetle, in 2018 the Canadian Food Inspection Agency (CFIA) established a regulated area around False Creek, restricting the movement of plant materials and soil. In 2021, a small number of Japanese beetles were detected in areas of Vancouver outside of False Creek. As a result, the regulated area in Vancouver was expanded in 2022. (2.3 MB)
CFIA movement restrictions for plant material and soil
Written permission from CFIA is required before moving the following plant materials out of the regulated area.
Restricted year-round: Rooted plants (plants with soil attached) and soil
Restricted between June 15 and October 15 (flying season of the adult beetle): Plants and above-ground plant parts (clippings, grass, prunings, leaves) that are free from soil
What residents and landscapers should do
Residents, businesses and landscapers are encouraged to keep soil and plant materials on-site whenever possible and continue to use the green bin for yard trimmings. Moving soil and plant material outside the regulated area requires a Movement Certificate from the CFIA. To obtain a free Movement Certificate from CFIA, call 604-292-5742 or e-mail BCPF.Japanese.Beetle@inspection.gc.ca. Those in non-compliance with CFIA's movement controls may be subject to fines levied by the CFIA.
Plant material being moved out of Vancouver's regulated area must be taken directly to the Vancouver South Transfer Station (VSTS) on Kent Avenue, accompanied by a Movement Certificate. VSTS is open seven days a week and accepts rooted plants, prunings, above-ground plant material, and a small amount of soil (maximum: one-half wheelbarrow full). Larger quantities of soil originating from the regulated area must be taken to the Vancouver Landfill in Delta for deep burial. Pre-approval is required. Find more information and instructions
Temporary Transfer Station at False Creek is closed
Our Temporary Transfer Station (TTS) located near False Creek, which accepted small amounts of plant material from the regulated area in past years, will not open in 2022. The TTS lacks the required capacity to handle larger volumes of plant material coming from Vancouver's expanded regulated area. This means that all plant material being moved out of Vancouver's regulated area must be taken to the Vancouver South Transfer Station for disposal.
Resources and more information
Report Japanese beetle sightings or feeding damage at 604-292-5742 or BCPF.Japanese.Beetle@inspection.gc.ca
Learn more about CFIA's movement controls