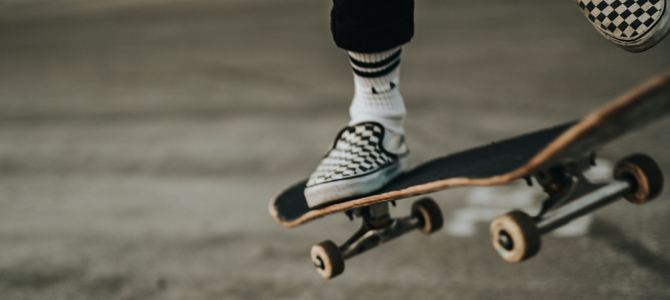 Kick, push to Hillcrest for indoor skateboarding this summer
June 23 2022 –
We invite you to drop in (pun intended) to Hillcrest Community Centre's summer skateboarding facility, located in the curling rink.
Escape the rain or summer heat from Saturday, July 2 to Friday, August 12, 2022, and learn to skate, practise new tricks, and have fun with new friends indoors. The green ramp, a mini-ramp managed by the Vancouver Skateboard Coalition, in addition to several other features, will be set up for indoor use for the duration of the program. Staff will be on-site to provide lessons and ensure the safety of skaters.
Spectrum Skateboard lessons
In addition to this programming, the Park Board has teamed up with Spectrum Skateboard Society to provide skateboard lessons for neurodivergent children and youth. As the name suggests, Spectrum specializes in programming for children on the autism spectrum, but will be welcoming children of all abilities for their skate programs at Hillcrest, and therefore, no proof of diagnosis is required for registration.
Find Spectrum Skateboard programming by searching for "Spectrum Skateboard" in our online registration portal.
Schedule
There will be two sessions per day, aside from Sundays when the skate park is closed. All sessions will have 25 pre-registered spaces, with five spaces reserved for drop-ins. Similar to pools, registration for sessions will begin three days before at noon (example, registration for either session on July 6 will begin on July 3 at noon).
Drop-in schedule: July 2 to August 12, 2022
Day
Drop-in hours
Monday

9:30am to 11am (8 to 18 yrs)

11:15am to 12:45pm (13 yrs+)

Tuesday

9:30am to 11am (8 to 18 yrs)

11:15am to 12:45pm (13 yrs+)

Wednesday

9:30am to 11am (8 to 18 yrs)

11:15am to 12:45pm (13 yrs+)

Thursday

12:30pm to 2pm (13 yrs+)

2:15pm to 3:45pm (13 yrs+)

Friday

12:30pm to 2pm (8 to 18 yrs)

2:15pm to 3:45pm (13 yrs+)

Saturday

12:30pm to 2pm (8 to 18 yrs)

2:15pm to 3:45pm (13 yrs+)
Background
In early June, the Park Board approved a new strategy to improve and guide skate infrastructure in the city. CitySkate, the Skateboard Amenities Strategy, sets out a vision to make Vancouver the home of a well-connected network of welcoming skate amenities that serve a thriving and diverse community and addresses the significant service gaps throughout the city. This programming is the first of the quick wins identified in CitySkate to be implemented.
Safety
Helmets are required for individuals 16 and younger, and are strongly recommended for individuals 17 and older. A waiver must also be completed prior to an individual's first session. Skaters under 19 require a parent or guardian sign for them. Once signed, waivers will be effective for all sessions.
Find more information about the Hillcrest skateboard program