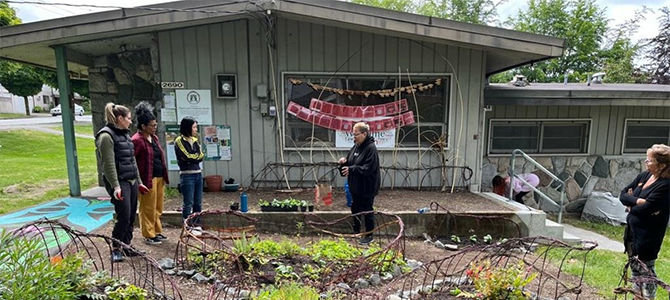 Park Board announces latest projects bringing community art and environmental stewardship to city parks
July 18 2023 –
The Vancouver Board of Parks and Recreation is pleased to announce the latest round of community-led projects funded through the Neighbourhood Matching Fund (NMF).
For almost 30 years, the NMF has provided funding and staff support for creative projects in the city's parks and public spaces. The program awards up to $10,000 to match contributions including in-kind donations and volunteer labour to each successful group.
The projects announced today are intended to help enhance the creativity and community of Vancouver's public spaces through community art, environmental stewardship and gardening.
2023 projects funded
These six projects have received funding support amounting to $58,000 to further their work and develop creative projects with Vancouver's local communities:
At Britannia Community Centre Association (Grandview-Woodland), Indigenous carver Simon James will share teachings and carving knowledge and support the community in designing and creating small and large scale carvings at the Britannia Carving Pavilion.
Copley Community Orchard (Kensington-Cedar Cottage) will facilitate planting native plants, creating a reflective sitting area around the Every Child Matters Garden and supporting fruit-producing plants to offer the community free access to harvest seasonal fruit.
Guided by Carnegie Community Centre Elder and Indigenous plant knowledge holder Marr Dorvault, students and teachers at Crosstown Elementary šxʷwəq̓ʷəθət (Downtown) will participate in the creation and care of an Indigenous plant garden for the school and neighbourhood in Andy Livingstone Park.
The project 'Weaving Art & Impact: Tying Plant Threads to Climate Resilience', facilitated by Earthand Gleaners Society (Strathcona), brings seasonal fibre harvesting knowledge and hand skills together with citizen science opportunities to observe climate change impacts on the land and plants. The project will help revitalize previously inaccessible spaces at Trillium Park and in the Means of Production Garden at China Creek North Park and create community weavings, spindles and fibres.
In the lead up to its 45th anniversary, taking place next year, Eastside Family Place (Grandview Woodland) will be creating indoor and outdoor murals, led by Indigenous artist Derek Edenshaw and inspired by the development of a community Children's Charter.
Marpole Neighbourhood House (Marpole) invites Indigenous Elders and all gardeners (amateur or otherwise!) to share knowledge and learn about the land, while enhancing the Marpole Community Garden with an edible native plant area.
Projects are free to participate in and open to all. For more information on projects funded through the NMF, and upcoming deadlines for applications, please visit vancouver.ca/nmf or email nmf@vancouver.ca.