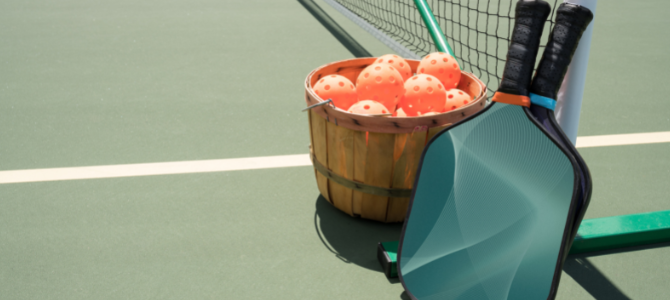 Vancouver picklers invited to play at pop-up pickleball courts
July 12 2022 –
The Vancouver Board of Parks and Recreation invites all pickleball players to participate in a pop-up pickleball pilot (try saying that five times fast!), from Thursday, July 14 to October 27, 2022.
As demand for pickleball space is on the rise, this project will temporarily convert certain tennis courts into pickleball courts. Courts will be converted for a few weeks or a few months at a time, depending on the location. Following the pilot project, all courts will be returned to their original state as a tennis courts.
The Park Board has seen tremendous growth in the sport of pickleball in Vancouver and is assessing the need for more courts and resources through the pop-up program.
How it will work
Pop-up courts will be available to all members of the public with similar to the guidelines in place for public tennis courts
Courts will only be available on a first-come, first-serve basis
All lines will be chalked by recreation staff, not painted
Portable nets, provided by the Vancouver Pickleball Association, will be stored in locked boxes on-site, and combinations can be retrieved with a smartphone
An opportunity for residents to practice dink shots, drop shots, and put away a few balls on a worthy opponent, the Pop-Up Pickleball project was designed to have minimal impact on the tennis community. Vancouver has over 170 tennis courts, nine of which will be used as pop-up sites. Each individual tennis court will be used to create four pickleball courts, resulting in 34 pop-up pickleball courts.
Locations
| Site | Dates | Courts available |
| --- | --- | --- |
| Andy Livingston Park | September 23 to October 25, 2022 | 1 tennis, 4 pop-up pickleball |
| Champlain Heights Park | August 19 to September 20, 2022 | 2 tennis, 8 pop-up pickleball |
| Jericho Beach Park | July 14 to October 26, 2022 | 2 tennis, 8 pop-up pickleball |
| Memorial South Park | July 15 to August 16, 2022 | 2 tennis, 6 pop-up pickleball |
| Strathcona Park | September 24 to October 27 | 2 tennis, 8 pop-up pickleball |