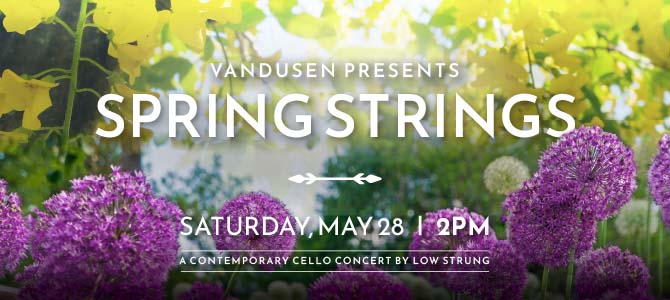 VanDusen Botanical Garden brings Bridgerton to Vancouver with contemporary cello performance
May 12 2022 –
VanDusen Botanical Garden is abuzz as they prepare to host Low Strung , a classically-trained cello group from Yale University, on Saturday, May 28 at 2pm on the Great Lawn.
Unlike the traditional cello concert, guests will not be hearing pieces by Bach, Brahms, or Bruch. Low Strung is trending with their contemporary renditions of modern hits from artists like Beyoncé, Lady Gaga, and even the Beatles. Guests who purchase tickets to the event can spend the day roaming the dreamy 55-acre VanDusen Botanical Garden before making their way to the Great Lawn for the main event.
The end of May offers violet wisteria blooming throughout the garden and the famous Laburnum Walk, a whimsical sight that should not be missed. The look and feel of the event will make visitors wonder if they are the newest addition to the Bridgerton cast, so naturally, costumes and Regency-era attire are more than welcome additions to the experience.
Plan your visit
As always, we encourage visitors to bring their own picnics, picnic blankets, or low chairs for the show, but unfortunately, full-sized chairs and horse-drawn carriages will not be admitted to the event.
Doors will open at 1pm and guests are encouraged to arrive before 2pm in order to reserve a spot on the lawn. A designated preferred seating area at the lower lawn will be reserved for all ticket holders.
There are limited tickets available for this event and they will not be sold on-site. General admission will cost $15 per ticket and $13 for VBGA members.
Event details
Location: VanDusen Botanical Garden – Great Lawn
Date: Saturday, May 28, 2022
Time: 2pm
Doors open: 1pm
Cost: $15 general admission ($13 for VBGA members)

Find program details and background