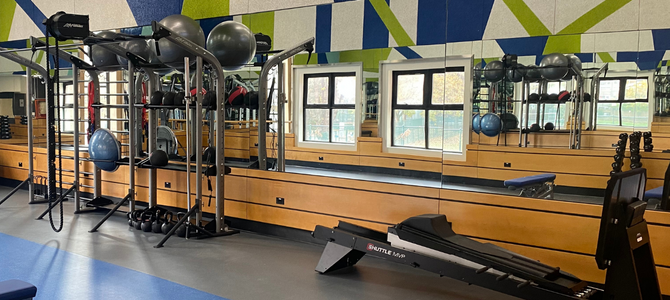 West End Community Centre wows with revamped fitness facility
November 17 2022 –
Calling all those who flex, stretch, and connect downtown: the fitness centre at the West End Community Centre is now open, following some fresh renovations.
Located on the second floor of the centre on Denman Street, the fitness area underwent a complete renovation, with updates to the infrastructure and layout of the fitness rooms, squash court, change rooms, and steam room. A beautiful, digitally-designed mural piece from Susan Point's public art collection, "People Amongst the People," perfectly captures the essence of the West End community.
Brand new equipment and machines occupy the three open concept areas; a cardio studio, free and heavy weight area, and a circuit gym. The flooring throughout the facility has been redone with new tiles and slip-free laminate, and sanitation stations and health and safety equipment have been placed in each room ensuring clean, hygienic equipment is always readily available.
Inclusivity and accessibility were top of mind for the design and concept of the space and its amenities. The fitness centre now includes the Cybex Prestige Total Access, featuring a stationary seat that swivels out of place for wheelchair accessibility, allowing everyone to participate in the likes of lateral pulldowns, seated rowing, and chest presses. An elevated mat table has been added for stretching and a Sci-Fit Step One machine is available for those looking to do a session on a seated elliptical, upright bike, recumbent bike, or treadmill.
Whether you're seeking a dry place to run during wet season in Vancouver, working towards achieving your New Year, New You goals, or just looking to get a quick sweat on while the kids have a lesson at the ice rink or community centre, the West End Fitness Centre has it all.
Passes to the fitness centre can be purchased on a drop-in basis, but for people wanting to use the gym regularly, a Flexipass is recommended. From November 8 to December 8, 2022, get access to the Fit for Life promotion. This promo gives a $50 discount on adult, youth, senior, or child 12-month Park Board Flexipasses.
Fitness centre hours of operation
Monday to Friday 6am to 9pm
Saturday and Sunday 9am to 5pm