MacLean Park Field House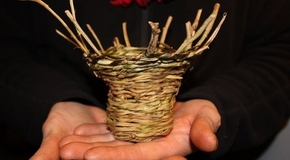 Location
710 Keefer St in MacLean Park
Area
Nearby community centres
Strathcona, Ray Cam, Britannia 
Urban Weavers: artists and scientist
Local artist-weavers together with ecologists explore the creative repurposing of green waste. In the Urban Weaver Project, invasive species are substituted for traditional weaving materials that are difficult to harvest sustainably in the city.
Todd DeVries, lead artist, Haida cedar weaver
Todd DeVries "ith kil gaa" and "gannyaa" designate is of the Tsiij Git'Anee Eagle (Guud) Clan of the Haida Nation on Haida Gwaii. Todd discovered traditional weaving shortly after his introduction to his Haida heritage in 2000 when he met his Haida family for the first time. Todd's earlier life in Ontario as a computer programmer changed completely as he learned of his First Nations heritage; mastering traditional cedar bark weaving, making hats, baskets, and bracelets has played a strong role in his journey of cultural identity since that time. Todd continues in his commitment to knowledge sharing; as he learns from others about his culture he passes on weaving traditions and has taught communities as diverse as elders in Haida Gwaii and urban youth with the Broadway Youth Resource Centre. Todd is primarily self-taught from books: in addition, Sherri Dick of Old Massett, Haida Gwaii, and Holly Churchill of Ketichan, Alaska have both been weaving mentors assisting in his skill development. Past exhibitions include Sto:lo Artisans Gallery and Todd was the key cedar weaving demonstrator at Klahowya Village Stanley Park in 2010. His expertise in computers is now utilized in building and maintaining websites for his weaving practice, and his writings on cultural identity and climate change.
Sharon Kallis, lead artist, eco-based community artist and project administrator
With a "one-mile diet" approach to sourcing art materials, Sharon Kallis works to discover the inherent material potential in a local landscape. Involving community in connecting traditional hand techniques with invasive species and garden waste, she creates site-specific installations that become ecological interventions. Graduating from Emily Carr Institute of Art and Design in 1996, Sharon began working materials from the land in 1999 and has exhibited and engaged communities with her practice in Ireland, Spain and throughout the United States and Canada. Locally, Sharon has worked with Vancouver Park Board, Stanley Park Ecology Society, Artstarts, Evergreen Society, Community Arts Council of Vancouver and Environmental Youth Alliance. Sharon is a member of MOPARRC, the artist collective that activates the Means of Production garden in Mount Pleasant, a community garden that grows art materials. Sharon has received Canada Council and British Columbia Arts Council grants and is the 2010 recipient of the International Brandford/ Elliott Award for Excellence in Fibre Arts and Vancouver, Mayor's Arts Award for Studio Design: emerging artist.