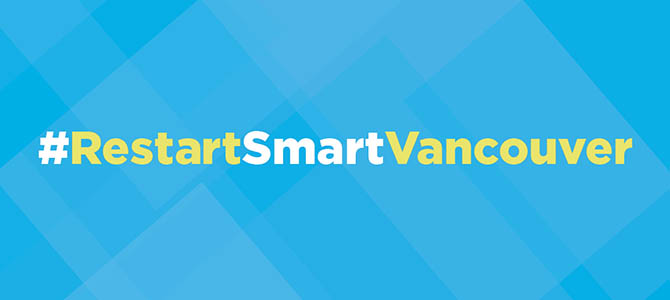 City supports Open With Care campaign
Our city is filled with amazing businesses, restaurants, and shops. We should be proud of our local entrepreneurs and continue supporting them as we move forward together.
Mayor Kennedy Stewart
May 29 2020 –
We're supporting the Business Improvement Associations' (BIAs) Open With Care campaign and urging all Vancouverites to support local business.
Translated materials available
We translated materials for the BIA Open With Care campaign to ensure that it was inclusive and maximized the initiative's reach.
Posters, buttons, and floor decals are among the materials translated into Simplified Chinese, Traditional Chinese, Punjabi, Tagalog, and Vietnamese. Materials are available for businesses to download.
About our recovery plan
Our Restart Smart Vancouver plan lays out a carefully considered and phased approach to reopening and reinvigorating the city. With its "Stay Strong, Stay Local" message, a significant part of the plan emphasizes support for local businesses.
Support for local businesses
In addition to support for Open With Care, we're innovating usage of public space to make it easier for businesses to re-open and welcome customers safely, as well as expanding options for patios. An expedited online application process for businesses seeking patio permits opens on June 1.
As a response to the COVID-19 (Coronavirus) pandemic, we created the COVID-19 Business Communication and Support Office (BCSO) as a comprehensive resource listing senior government announcements and programs, assistance from business organizations, and City of Vancouver information. BCSO's staff provide additional support responding daily to questions from business owners.
Refer to this website and social media channels for more detailed information on the status of our facilities and services.
Stay strong and stay local
Vancouverites have been doing a great job of reducing the spread of COVID-19 by staying home and staying put. As we shift into recovery and restart, we are asking the public to:
Stay strong – keep 2m apart, do not attend large gatherings, and stay home if you are feeling unwell
Stay local – support local businesses and your neighbourhood
Quotes
Mayor Kennedy Stewart
"With businesses taking necessary precautions to keep their staff, customers, and the community safe, we can all rest assured that health and wellness are the top priorities for reopening," says Mayor Kennedy Stewart. "Our city is filled with amazing businesses, restaurants, and shops. We should be proud of our local entrepreneurs and continue supporting them as we move forward together."
Executive Director West 4th Business Improvement Association Jane McFadden
"I'm so delighted that the City is partnering with us on this campaign to encourage consumers to safely support local business," says Jane McFadden, executive director of the West 4th Business Improvement Association, and part of the Vancouver BIAs Marketing & Revitalization Committee, which developed the campaign on behalf of the 22 Vancouver BIAs. "We're thrilled that the campaign is available in multiple languages, making it accessible to people in many communities in our great city."