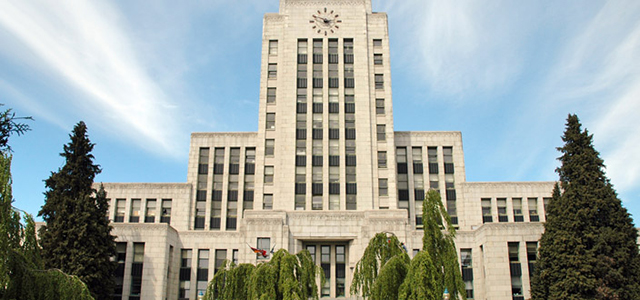 Events, decisions, and reports at City Council this week
November 26 2020 –
Vancouver City Council met electronically this week to hear and discuss a variety of topics during Council and Standing Committee on City Finance and Services meetings.
Tuesday, November 24, 2020
Council approved several reports and referral reports:
Staff gave a presentation to Council on (855 KB)Criteria for 100% Secured Rental and Below-Market Housing as an Alternative to Inclusionary Social Housing in the Burrard Corridor of the West End Community Plan . After asking questions of staff, hearing from one speaker and Council debate, this was approved with amendments. (346 KB)
By-laws 1 to 23 were approved, except for By-law 6 which failed. (10 MB)
Council also approved the following administrative motions:
The motion Protecting Tenants from Real Estate Investment Trusts was withdrawn. (44 KB)
The following motions were referred to Wednesday's Standing Committee on City Finance and Services meeting, in order to hear from speakers:
Wednesday, November 25, 2020
The Standing Committee on City Finance and Services began by approving:
The meeting then dealt with motions referred from Tuesday's Council meeting.
After hearing from three speakers for Petition for the Removal of the Alma Street Building Line and one speaker for (46 KB)Sustaining Vancouver's Chinatown , these were approved. (29 KB)
The meeting also heard from 27 speakers for Working with Senior Governments to Address the Overdose Crisis and approved this with amendments. (21 KB)
By-law 1 was approved. (56 KB)
The next Special Council meeting is scheduled for Tuesday, December 1, at 9:30am.
Quotes
Councillor Jean Swanson
Regarding Report Back on Empty Homes Tax 2021 Tax Rate Increase and Working with Senior Governments to Address the Overdose Crisis
"Two good things happened at Council this week. We upped the Empty Homes Tax to three per cent, and we will ask the feds to decriminalize possession of small amounts of drugs. There's lots more work to do to stop poison drugs from killing people, but this is one step. And hopefully we'll get more money from the Empty Homes Tax to put into housing people who are on the street."