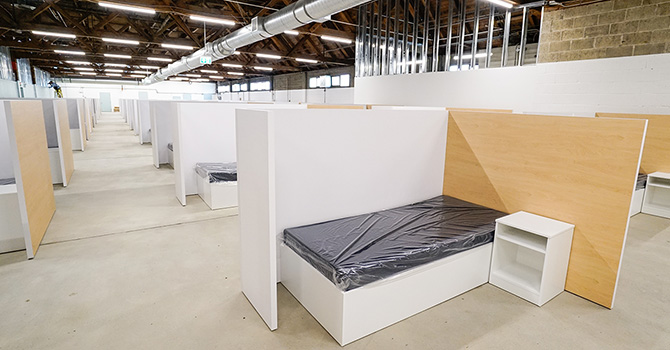 New 24/7 shelter provides safe, warm beds in Vancouver
Once people are inside and connected to services, we can start to break the cycle of homelessness which means fewer people struggling to survive outside.
Celine Mauboules, Managing Director, Homelessness Services and Affordable Housing
May 28 2021 –
A new homeless crisis shelter located at 875 Terminal Ave providing 60 safe spaces with access to meals, showers, and laundry, opens tomorrow. Klahowya Tillicum Lalum, which means "welcome friend home", is the second new shelter to open in Vancouver this month. It has a pod system for beds which provides shelter guests with more privacy and their own space, and meets COVID-19 guidance for distancing.
Managed by Lu'ma Native Housing Society, an experienced non-profit housing operator, Klahowya Tillicum Lalum will be supported with operating funding from the Province.
The new shelter will help guests access the necessities of life that many of us take for granted, such as food, washrooms and laundry, as well as connections to vital services including longer-term housing. Another new BC Housing funded shelter located at 15-27 West Hastings Street opened on May 21 and is providing another 60 beds.
Addressing the needs of people experiencing homelessness
These two shelters are the latest step that the City, Province, and Federal governments are taking to address the critical needs of people experiencing homelessness in Vancouver.
Along with the purchase of two Kingsway properties, which are being renovated to provide supportive housing, there will be almost 450 new supportive homes and indoor spaces opening this year.
The City and BC Housing have also committed to building 350 permanent supportive units to provide long-term homes for people in the coming years, in addition to the nearly 1,000 supportive homes that opened in Vancouver over the last three years.
Covenant House's annual Sleep Out
Tonight, City Hall will be illuminated blue to mark Covenant House's annual Sleep Out, which raises funds and awareness to ensure vulnerable young people have a safe place to sleep every night.
To find out more about how the City is supporting people experiencing homelessness, learn about our shelter strategy and about other supportive housing initiatives.
Quotes
Celine Mauboules, Managing Director, Homelessness Services and Affordable Housing
"Low-barrier shelters are key in ensuring our residents experiencing unsheltered homelessness can come inside and stay 24 hours a day if needed," said Celine Mauboules, Managing Director, Homelessness Services and Affordable Housing. "Once people are inside and connected to services, we can start to break the cycle of homelessness which means fewer people struggling to survive outside. We are grateful to our partners BC Housing, the Federal Government, and Lu'ma Native Housing Society for helping us create this new space."
Kevin Eaton, Director of Supportive Housing, Lu'ma Native Housing Society
"Lu'ma Native Housing Society is excited to partner with the City of Vancouver and the Province in the opening of Klahowya Tillicum Lalum," said Kevin Eaton, Director of Supportive Housing, Lu'ma Native Housing Society. "With shelter, meals, and supportive connections to a variety of services we are optimistic this will lead to more permanent housing outcomes. With Indigenous homelessness representing 39 per cent of the recent homelessness count, we are hopeful that this will be a step toward self sufficiency. We are excited to partner with the City and the Province by bringing shelter to those in need in a dignified and respectful manner. We are thankful to be in a position to help others."