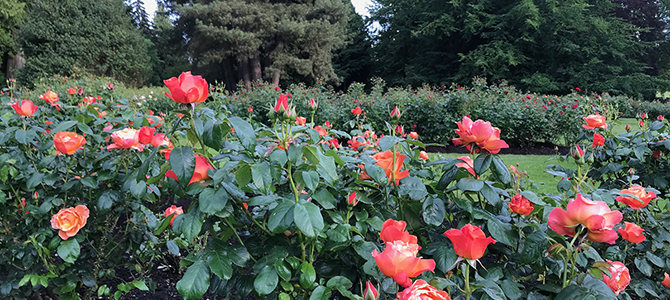 Stanley Park Rose Garden turns 100
Roses are a lovely flower. They are large, colourful, and can be fragrant and people equate them with beauty and love.
Park Board Chair Camil Dumont
June 11 2020 –
Up to 3,000 blooming roses are turning the 100-year-old Stanley Park Rose Garden into a spectacle of colour this month.
The garden was established in 1920 along Pipeline Road after the Kiwanis Club gave the Vancouver Park Board $3,600 to build it. Today, the garden contains 60 beds, each with between 30 to 50 rose bushes.
"COVID-19 has brought more people out in the garden, which is the largest public rose garden in western Canada," said Park Board Chair Camil Dumont.
Rose varieties
Roses planted in the garden today are disease resistant and don't need to be sprayed. Varieties include:
Hybrid tea
Climbers
Ramblers
Long stem
English form
Boulevard
Floribunda
Shrub
Flamingo
Grandiflora
The rose garden bed layout and design has changed somewhat over the years. In the 1920s, part of what is now the upper rose garden replaced a goat paddock and monkey house that were part of the old zoo and, at one time, there were greenhouses below the lower rose garden.
The Rose Garden typically blooms until September.